Not only is this salad delicious, colorful, seasonal, and perfect on a sunny evening for two – it's also good for you. The combination of beet and carrot is used to help women metabolize aggressive estrogen and boost the production of progesterone.
So pull out your favorite platter and prettiest salad serving utensils, and dig in.
Note: Because this recipe is so seasonal, cooking times may vary. I was working with baby beets and tender carrots. If the beets are larger, cut them to smaller pieces or roast them longer.
Tip: Learn how to add more hormone-balancing ingredients to your meals with our FREE 15 Breakfasts to Rebalance Your Hormones guide here.
Roasted Beet and Carrot Salad with Herbs
Author:
Magdalena Wszelaki
Ingredients
Salad Ingredients:
1 bunch small beets with greens attached
1 tablespoon olive oil, divided
2 medium carrots, cut into 1-inch pieces
2 cups salad greens
1 cooked chicken breast, shredded or cubed
2 teaspoons golden flax seed
2 teaspoons sesame seeds
2 tablespoons fresh parsley, roughly chopped
2 teaspoons fresh thyme

Herb Vinaigrette Ingredients:
3 tablespoons olive oil
1 ½ tablespoons lemon juice
1 tablespoon fresh parsley, roughly chopped
1 teaspoon fresh thyme, roughly chopped
1 teaspoon fresh rosemary, roughly chopped
½ teaspoon ground sea salt
How To Make
Salad Instructions:
Preheat oven to 375 degrees.
Chop the greens off the beets, and wash them well.
Wash the baby beets.
Place the beets on parchment paper, and drizzle with 2 teaspoons of olive oil.
Seal the parchment up, place in a shallow roasting pan and bake for 30-40 minutes, or until fork tender.
Toss the carrots with remaining olive oil, and place in a shallow roasting pan.
Bake for 25-30 minutes, or until fork tender.
While the vegetables are baking, bring a medium saucepan of salted water to a boil.
Blanch the beet greens for 1 minute, or until bright green. Shock them in a bowl of cold water with lots of ice cubes.
Dry the beet greens with paper towels, or in a salad spinner. Roughly chop the greens.
When the beets are cool enough to handle, gently remove their skins with paper towels. Cut off the root end of the beets.

Vinaigrette Instructions:
Whisk all of the ingredients together in a small bowl.

To Assemble:
Place the salad greens on a platter, and top with beet greens, shredded chicken, beets, roasted carrots, flax seeds, sesame seeds, parsley and thyme.
Drizzle the salad with the herb vinaigrette. Serve immediately and enjoy!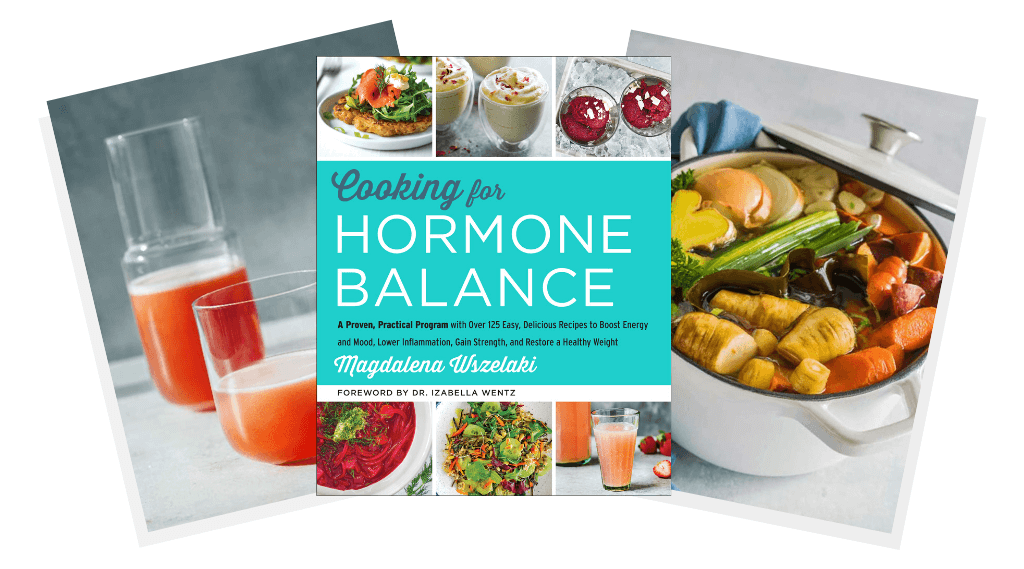 In my cookbook, Cooking For Hormone Balance, you'll find over 125 easy, delicious recipes to nourish your body and balance your hormones without calorie restriction or deprivation.
All of the recipes are based on 20 hormone-supporting superfoods and 20 hormone-supporting super herbs—with modifications for Paleo, Paleo for Autoimmunity (AIP), anti-Candida, and low-FODMAP diets.
You can get a copy of the cookbook here.