I don't need to tell you that conventional pie recipes load up on sugar, gluten, and dairy. Fortunately, I've got a raw pecan pie that's every bit as delectable as its conventional counterpart, with way more health benefits.
To start, this pie recipe is free from gluten, dairy, and refined sugar. It's also prepared with seed rotation principles, so you can help regulate estrogen in your body.
If you're new to seed rotation, read on. I'll break down the basics of seed rotation, and why this pie is the perfect seed cycling recipe.
A Crust with Seeds and Nuts to Support Hormone Balance
This raw pecan pie isn't just a delectable, healthier treat; it can help balance your hormones and ease the symptoms of estrogen dominance. This is thanks to built-in seed rotation, where you prepare your crust with pumpkin and flax seeds, or sunflower and sesame seeds, depending on where you are in your cycle.
When I first heard about the naturopathic concept of "seed rotation," I was skeptical. How could such a simple tweak to your diet impact estrogen dominance or low estrogen so dramatically?
Whether you suffer from heavy, uncomfortable cycles, or you're in perimenopause or menopause with hot flashes, seed rotation may ease your symptoms. I'm convinced, now that I've seen firsthand how many people it helps.
Here are some of the conditions it can help:
Irregular periods
Heavy flows
Terrible PMS (bloating, moods, pain, energy, headaches)
Fibroids
Endometriosis
Breast lumps
Thyroid Nodules
Fibrocystic and painful breasts
Low thyroid issues
Hair loss and brittle hair
Weight gain around the hip and thighs
Water retention
Cellulite
Hot flashes
Night Sweats
Fatigue
Mood swings
How Does Seed Rotation Work?
During the first half of your cycle (known as the follicular phase), you enjoy foods (like this pie) with estrogen-balancing seeds like pumpkin and flax. The phytoestrogens in these seeds regulate estrogen production.
In the second half of your cycle (luteal phase), you load up on sunflower and sesame seeds. These seeds also regulate estrogen, as well as boost progesterone.
With this pecan pie recipe, you can switch up the variety of seeds to meet your cycle's needs.
Learn how to add more hormone-balancing ingredients to your meals with our FREE 15 Breakfasts to Rebalance Your Hormones guide here.

Raw Pecan Pie with Seed Cycling Crust
Equipment: food processor, 8-inch pie plate
Author:
Magdalena Wszelaki
Ingredients
Crust
1 ½ cups mixed raw pumpkin and flax seeds, or raw sunflower and raw sesame (depending on your cycle)
½ cup unsweetened shredded coconut
3 tablespoons coconut oil
¼ cup pitted and chopped medjool dates
½ teaspoon vanilla extract
Pinch of sea salt
Filling
3 cups raw pecans, divided
1 cup medjool dates, pitted and soaked in warm water for 30 minutes
Zest of 1 orange
1 ½ teaspoons cinnamon
1 teaspoon vanilla extract
½ teaspoon sea salt
¼ teaspoon ground nutmeg
¼ teaspoon ground cardamom
¼ cup coconut oil, melted
How To Make
Place the seeds, coconut, dates, salt and vanilla in a food processor and pulse until the mixture holds together. Press the mixture into a 8-inch pie plate and set aside.
Next, add 2 ½ cups of the pecans to the food processor and puree until they make a thick paste.
Drain the dates from their soaking water. Add them to the pecan mixture along with the orange zest, spices, salt, and vanilla. Puree until smooth.
With the food processor running, slowly add the melted oil a little at a time so the mixture doesn't split. If it does split, continue to whip until it comes together.
Spread the pecan mixture into the crust and garnish with remaining ½ cup pecans.
Chill in the fridge for at least 1 hour.
Notes
Storage Instructions
Pie can be stored in the fridge for a week or in a covered container in the freezer for one month.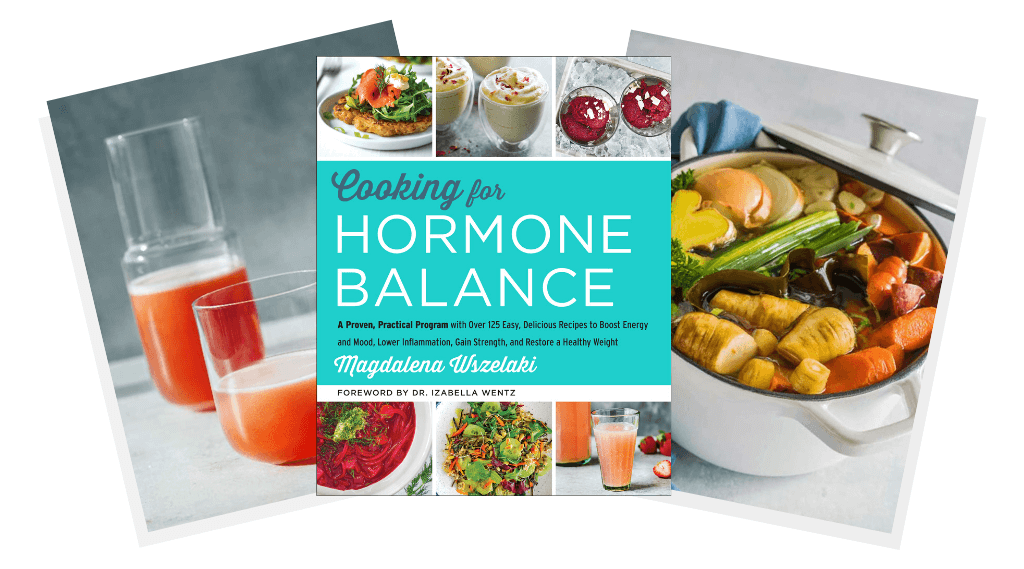 In my cookbook, Cooking For Hormone Balance, you'll find over 125 easy, delicious recipes to nourish your body and balance your hormones without calorie restriction or deprivation.
All of the recipes are based on 20 hormone-supporting superfoods and 20 hormone-supporting super herbs—with modifications for Paleo, Paleo for Autoimmunity (AIP), anti-Candida, and low-FODMAP diets.
You can get a copy of the cookbook here.