This dairy-free, egg-free cheesecake is as decadent and creamy as the cakes you know and love, but without all of the digestive side-effects. Best of all, there's no baking required.
Plant-based swaps like coconut butter, soaked cashews and pecans create a silky cheesecake with a hint of fresh blueberry flavor. It also happens to be plant-based, perfect for anyone limiting intake of animal products.
Traditional pie and cheesecake crust is often made of processed flour, refined sugar and butter. For this healthy crust, pecans step in adding a crunchy texture and nutty flavor. A little bit of coconut oil helps the crust stick together for easy slicing.
Have Your Cake and Stay Healthy, Too
Not only do the pecans, cashews and blueberries add indulgent flavor to this cheesecake, but they are also full of vitamins and minerals that help reduce the risk for certain health conditions like:
Cardiovascular disease – pecans help reduce bad cholesterol and balance blood glucose, reducing stress on the heart.
Mood swings and PMS– pecans and cashews are a good source of manganese, zinc, iron and manganese which help support mood balance and cravings.
Improve cognition and memory– Blueberries are rich in antioxidants called polyphenols that can help improve cognitive function.
Kitchen Tips
A springform pan is a must for this recipe. It makes removing the cheesecake a cinch. A 7-inch round is recommended, but 6-inch would also work.
When it comes to decorating your cheesecake, look for edible or food safe flowers or foliage. Pansies, marigolds, hibiscus, honeysuckle, chamomile and calendula are all great choices.
Coconut butter can be purchased in most health food grocers or online. You can also make your own by blending unsweetened coconut flakes in a food processor until smooth and creamy, about 8-10 minutes, scraping the sides as needed.
Learn how to add more hormone-balancing ingredients to your meals with our FREE 15 Breakfasts to Rebalance Your Hormones guide here.

Blueberry Dream Cheesecake (Dairy Free, Egg Free)
Equipment: 7-inch spring form
Author:
Magdalena Wszelaki
Ingredients
For Crust
2 cups raw pecans
3 tablespoons pure maple syrup
2 tablespoons unrefined coconut oil, melted
1 teaspoon vanilla extract
¼ teaspoon sea salt
For Cheesecake Layer
3 cups raw cashews
⅓ cup coconut butter, at room temperature
⅔ -1 cup organic blueberry juice
1 teaspoon vanilla extract
1 teaspoon ground cardamom
¼ teaspoon sea salt
1 cup fresh blueberries
How To Make
Place the cashews in a large bowl, pour hot water over them until they are fully submerged. Cover the bowl and soak for 10 minutes.
Pulse the crust ingredients in the food processor until well combined. Press into a spring form and place in the freezer until hardened.
Drain the cashews, place in a blender. Add all other ingredients apart from the blueberries and blend until silky smooth. Add the blueberries and pulse a few more times - until they are broken up but still visible.
Pour the batter into a 7-inch spring form and refrigerate for at least 4 hours.
Once set, remove the spring form, slice and serve. If refrigerating again, cover the cake so it doesn't dry up.
Notes
Storage: If refrigerating leftovers, cover the cake so it doesn't dry up.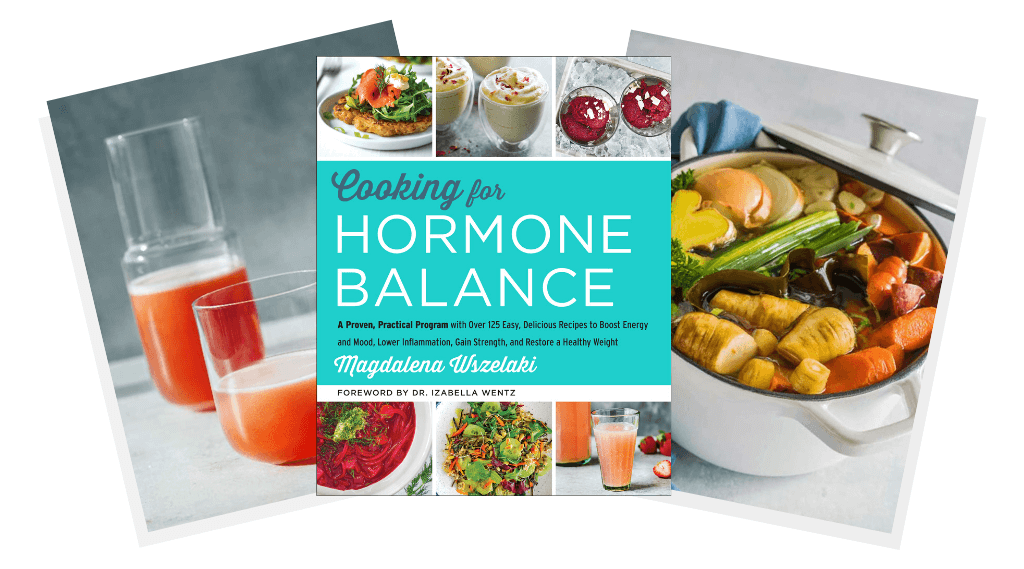 If you're looking for more healthy takes on dessert, you can find more recipes like this in my cookbook, Cooking For Hormone Balance, with over 125 easy, delicious recipes to nourish your body and balance your hormones without calorie restriction or deprivation.
All of the recipes are based on twenty hormone-supporting superfoods and twenty hormone-supporting super herbs—with modifications for Paleo, Paleo for Autoimmunity (AIP), anti-Candida, and low-FODMAP diets. Get the cookbook here.