If you're craving a cool, creamy pick-me-up, I've got the perfect alternative to sugary iced coffee. This Earl Grey London Fog is lightly sweet, delicate in flavor, and slightly caffeinated for an energy boost. (However, if you're trying to cut down on caffeine, here's an article you might find helpful.)
Earl Grey tea is a black tea flavored with bergamot orange, which is a type of citrus found in Calabria, Italy. Its flavor lies somewhere between a sweet lime and bitter orange.
That vibrant flavor plays beautifully with strong black tea, standing up well to the creamy, dairy-free milk. Dried lavender sets this London Fog apart; a sprig of this flower adds a delicate flavor that makes this latte irresistible.
This drink is cool, creamy, and sweet, thanks to a hint of raw honey. I prefer raw honey for its beneficial enzymes. To preserve those enzymes, you'll want to stir the honey into the tea when it's gently warm, but not boiling hot. The aim is to warm the honey enough to mix it in, not cook it.
This London Fog takes less than a minute to put together and will satisfy any craving for an iced, caffeinated beverage, without all the excess sugar and caffeine. Enjoy!
Learn how to add more hormone-balancing ingredients to your meals with our FREE 15 Breakfasts to Rebalance Your Hormones guide here.

London Fog Tea Latte
Author:
Magdalena Wszelaki
Ingredients
1 cup ice
1 cup brewed, chilled earl grey tea
½ cup dairy-free milk
1 tablespoon raw honey
Sprig of dried lavender
How To Make
Stir honey into brewed earl grey tea. Pour over ice and add dairy-free milk and a sprig of lavender. Enjoy chilled.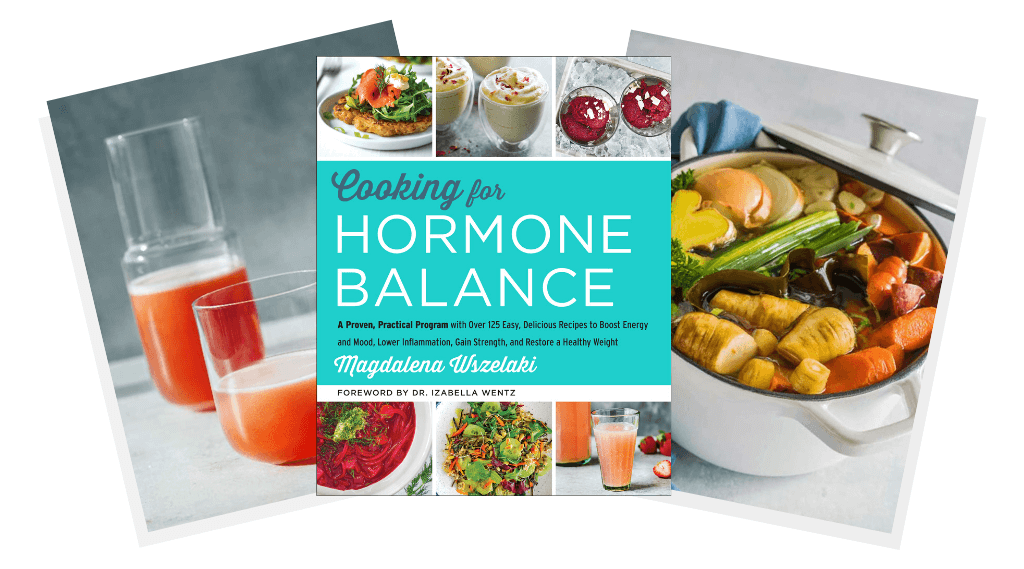 In my cookbook, Cooking For Hormone Balance, you'll find over 125 easy, delicious recipes to nourish your body and balance your hormones without calorie restriction or deprivation.
All of the recipes are based on 20 hormone-supporting superfoods and 20 hormone-supporting super herbs—with modifications for Paleo, Paleo for Autoimmunity (AIP), anti-Candida, and low-FODMAP diets.
You can get a copy of the cookbook here.