The holiday season tends to be a season of indulgence. My warm and rich rum and honey roasted pears allow you to indulge mindfully, cutting out excess sugar and inflammatory ingredients, but sacrificing none of the flavor.
I love pears for their subtle sweetness, which becomes amplified after roasting in the oven. Dark rum, which is aged in wooden casks, adds its characteristic deep, smoky-sweet flavor. You can also substitute that for port, brandy, or sweet wine.
If you've recently made any of my infused honey recipes, this is a great opportunity to put them to use. I use my juniper infused honey here, which offers some great benefits from the juniper berries, like:
High monoterpenes content (limonene, camphor, and beta-pinene)—known for anti-inflammatory, anticancer, antioxidant, and antibacterial properties. (1)
Antidiabetic effects (found in animal studies). (2)
Promotes heart health. (3)
You'll love the warming spice that comes with fresh ginger and cinnamon sticks. Finally, top these roasted pears with a healthy dollop of your favorite non-dairy yogurt. The creaminess and tang is unbeatable in a recipe like this.
Learn how to add more hormone-balancing ingredients to your meals with our FREE 15 Breakfasts to Rebalance Your Hormones guide here.

Warm Honey and Rum Roasted Pears
Author:
Magdalena Wszelaki
Ingredients
4 medium-sized pears
2 ½ ounces dark rum (no preservatives or added flavors)
2 whole cinnamon sticks
1 ½ teaspoons fresh ginger, grated
⅔ cup raw honey
3 tablespoons water
1½ teaspoon vanilla extract
4 tablespoons grass-fed ghee, melted
Dairy-free yogurt, optional
How To Make
Preheat oven to 350°F.
Cut pears in half.
Use a spoon or melon baller to scoop out the core.
In a small sauce pot on medium heat, add rum, cinnamon sticks, ginger, and simmer on medium for 1 minute.
Then, reduce the heat to low and whisk in honey, water and vanilla until thick.
Place pears in a baking dish and drizzle half of the rum honey sauce and ghee over them.
Bake for 30 to 35 minutes until pears are tender.
When the pears are finished, drizzle the rest of the rum honey sauce on top and sprinkle on walnuts.
Serve warm with a scoop of dairy-free yogurt (optional). Enjoy!
Find more hormone-balancing recipes in Overcoming Estrogen Dominance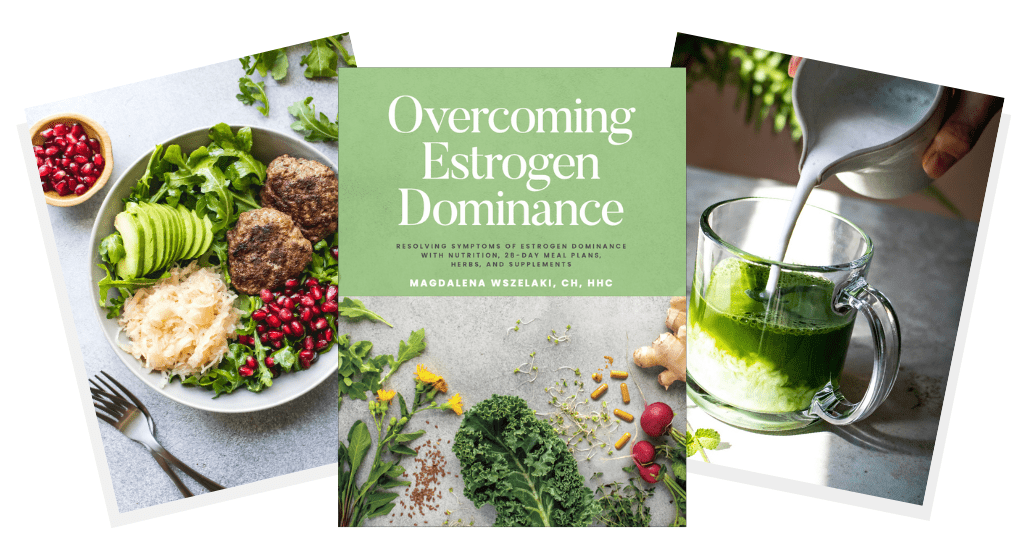 In Overcoming Estrogen Dominance, my goal is to empower and give you the tools to take control of your hormones and health.
More than 70% of women experience estrogen dominance. The symptoms range from lumpy and fibrocystic breasts to thyroid nodules, hot flashes, fibroids, uterine polyps, painful, heavy or irregular periods to infertility and miscarriages, from mood swings to insomnia, weight gain to fatigue.
In Overcoming Estrogen Dominance, I give women a roadmap to reverse estrogen dominance using food, herbs, supplements and natural protocols to rebalance hormones. You'll also find easy, hormone-balancing recipes that are free of gluten, dairy, soy, corn, eggs, and nightshades. These recipes are highly anti-inflammatory, low in sugar, and made with powerful medicinal ingredients to help heal your body naturally.
To get your copy of Overcoming Estrogen Dominance, go here.
Did you try this recipe? Let us know what you think in the comments below.
Resources
Kozioł, Agata et al. "An overview of the pharmacological properties and potential applications of natural monoterpenes." Mini reviews in medicinal chemistry vol. 14,14 (2014): 1156-68.
Ju, Jung Bong et al. "Comparison between ethanolic and aqueous extracts from Chinese juniper berries for hypoglycaemic and hypolipidemic effects in alloxan-induced diabetic rats." Journal of ethnopharmacology vol. 115,1 (2008): 110-5.
Huang, Haohai et al. "Effects of Berries Consumption on Cardiovascular Risk Factors: A Meta-analysis with Trial Sequential Analysis of Randomized Controlled Trials." Scientific reports vol. 6 23625. 23 Mar. 2016.