This herb-packed frittata is inspired by Kuku Sabzi, a Persian herb frittata that's brimming with fresh, abundant greenery. It's a traditional Nowruz, or Persian New Year, recipe.
In this version, we fill our frittata with fresh parsley, cilantro, dill, oregano, and thyme—which grow in abundance during the summer months but should also be easy to find during the offseason.
Not only do these familiar culinary herbs lend to a gorgeous green hue, but it serves up a healthy dose of phytoestrogens—a good thing! Phytoestrogens are plant-based compounds that mimic our body's own estrogen and can aid in everything from hot flashes to osteoporosis prevention.
Plus, fresh herbs are nutritionally dense and may offer anti-inflammatory effects. Optional nigella sativa seeds add distinct flavor and numerous health benefits, especially for your hormones.
Ingredients
Here are a few key benefits of the herbs used here:
Enjoy this herb-packed frittata with a fresh salad on the side for even more gorgeous, nutritious greenery.
Learn how to add more hormone-balancing ingredients to your meals with our FREE 15 Breakfasts to Rebalance Your Hormones guide here.
Abundant Fresh Herb Frittata (Egg Free)
Author:
Magdalena Wszelaki
Ingredients
½ teaspoon olive oil for greasing
1 teaspoon nigella sativa seeds (optional)
1 ½ cups chickpea flour
1 teaspoon aluminum-free baking powder
1 teaspoon sea salt
2 cups filtered water
2 tablespoons olive oil
1 cup fresh chopped parsley
1 cup fresh chopped cilantro
½ cup fresh chopped dill
2 tbsp fresh chopped oregano, leaves only
2 tbsp fresh chopped thyme, leaves only
¼ teaspoon garlic powder
How To Make
Heat oven to 350ºF. Grease a 9-inch round pie pan with ½ teaspoon olive oil. Use a spice grinder or mortar and pestle to coarsely grind nigella seeds.
In a large mixing bowl, whisk together chickpea flour, baking powder, salt, water and olive oil. Stir in freshly chopped herbs and garlic powder.
Pour into pan and bake for 25-30 minutes. Allow to cool for 10 minutes at room temperature before slicing.
Find even more hormone-balancing recipes in Overcoming Estrogen Dominance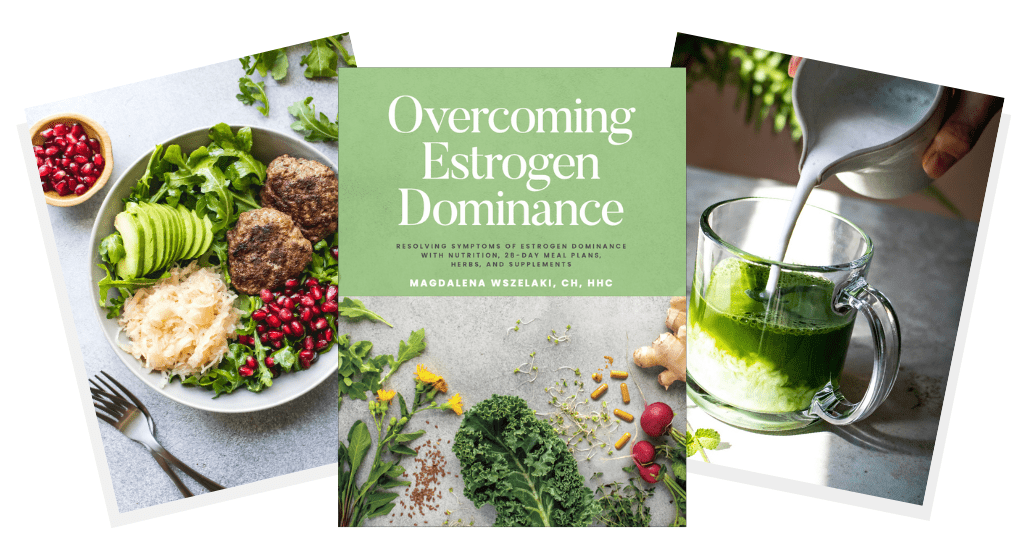 In Overcoming Estrogen Dominance, my goal is to empower and give you the tools to take control of your hormones and health.
More than 70% of women experience estrogen dominance. The symptoms range from lumpy and fibrocystic breasts to thyroid nodules, hot flashes, fibroids, uterine polyps, painful, heavy or irregular periods to infertility and miscarriages, from mood swings to insomnia, weight gain to fatigue.
In Overcoming Estrogen Dominance, I give women a roadmap to reverse estrogen dominance using food, herbs, supplements and natural protocols to rebalance hormones. You'll also find easy, hormone-balancing recipes that are free of gluten, dairy, soy, corn, eggs, and nightshades. These recipes are highly anti-inflammatory, low in sugar, and made with powerful medicinal ingredients to help heal your body naturally.
To get your copy of Overcoming Estrogen Dominance, go here.
References