When you think of cookies, how often do you imagine fresh herbs as an ingredient? If it's not often, we'd like to challenge that idea with these incredible pecan rosemary cookies.
These cookies are crisp, nutty, lightly sweetened, and have the perfect hint of lemony and woodsy rosemary. They come together with just a few wholesome ingredients and take less than 25 minutes total. That means you can satisfy a sweet craving with minimal effort—and no guilt.
The flavor of rosemary pairs well with the nutty crunch of pecan, and the flavor of almond flour at the base. A hint of maple syrup makes these a delicious indulgence you can feel good about.
We love rosemary for its brain-boosting properties—it's been used for centuries to strengthen memory and improve cognition. You'll find only a small amount of fresh rosemary in this recipe, but it never hurts to add this delicious, cognition-supporting herb to your diet.
Tips
Almond Flour: The recipe uses blanched almond flour, but you may also use almond meal in equal quantities if you prefer.
Rosemary: The recipe uses fresh rosemary but if you don't have fresh rosemary on hand, you can also use ½ tablespoon of dried rosemary instead.
While you're at it, try some of our other rosemary-inspired recipes: Brain Boost Tea and Rosemary Cashew Foccacia.
Easy Pecan Rosemary Cookies
Author:
Magdalena Wszelaki
Ingredients
1 ½ cups blanched almond flour
Pinch of sea salt
½ teaspoon baking powder
¼ cup extra virgin olive oil
2 tablespoons maple syrup
1 tablespoon fresh minced rosemary
½ cup pecans, finely chopped
How To Make
Preheat oven to 350F and line a large baking sheet with parchment paper or a silpat.
Combine blanched almond flour, sea salt, and baking powder together in a large bowl and whisk well to combine.
In a smaller bowl, whisk the olive oil and maple syrup together.
Pour the wet ingredients into the bowl with the dry ingredients and mix well until you get a homogeneous cookie dough.
Fold in the fresh minced rosemary and chopped pecans into the dough until they are evenly distributed.
Scoop 1 tablespoon of cookie dough and use wet hands to roll it into a 1-inch ball. Place the ball of dough on the prepared baking sheet. Repeat until all the dough has been used up (you should get 12 balls), placing the dough balls at least 2 inches apart.
Gently press down each ball of dough to flatten slightly.
Bake 10 to 12 mins until cookies are golden brown.
Let cookies cool for at least 10 minutes before removing from baking sheet.
Find more hormone-balancing recipes in Overcoming Estrogen Dominance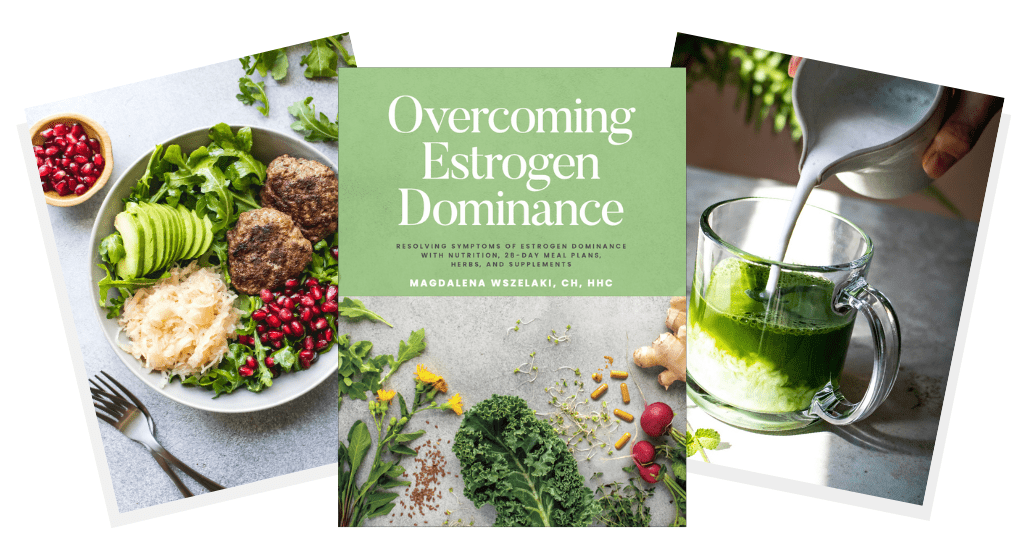 In Overcoming Estrogen Dominance, my goal is to empower and give you the tools to take control of your hormones and health.
More than 70% of women experience estrogen dominance. The symptoms range from lumpy and fibrocystic breasts to thyroid nodules, hot flashes, fibroids, uterine polyps, painful, heavy or irregular periods to infertility and miscarriages, from mood swings to insomnia, weight gain to fatigue.
In Overcoming Estrogen Dominance, I give women a roadmap to reverse estrogen dominance using food, herbs, supplements and natural protocols to rebalance hormones. You'll also find easy, hormone-balancing recipes that are free of gluten, dairy, soy, corn, eggs, and nightshades. These recipes are highly anti-inflammatory, low in sugar, and made with powerful medicinal ingredients to help heal your body naturally.
To get your copy of Overcoming Estrogen Dominance, go here.