Gorgeously red-hued, this rose-infused honey is the kind of treat you'll want to put on display. More than that, it delivers a healthy dose of anti-inflammatory flavonoids and prebiotics to feed healthy gut bacteria.
Of course, it tastes delicious too, with a gentle rose flavor paired with the floral sweetness of raw honey. This lovely recipe comes from HB team member Taylor Hresko, who is also a fellow herbalist 🙂
To make this simple infused honey, you'll combine rose hips and rose petals in a jar, filling the jar with raw honey until the rose parts are completely submerged. Leave it to infuse for 2-4 weeks, and it's ready to sweeten tea and treats, serve atop toast, or drizzle on oatmeal and yogurt.
The Medicinal Value of Rose
If you haven't started cooking with rosehips (the round "fruit" beneath the petals of a rose) and rose petals, now is the time to start. They offer some great benefits, like:
Rosehips are very high in vitamin C and flavonoids, strengthening the immune system and making them great allies against cold and flu.
Rose petals offer gallic acid, an antioxidant compound with anticancer, antimicrobial, anti-inflammatory, and pain-relieving effects. (1)
Rose petals are a good source of vitamins and phytonutrients, including vitamin C, iron, calcium, vitamin A, and vitamin E.
The Healing Benefits of Honey
When it comes to honey, it boasts some truly medicinal qualities. Here are a few:
This infused honey is a great way to nourish your gut with prebiotics, feeding good bacteria for a balanced digestive system. It also works to improve gut microflora overall. (2, 3)
Honey also works as a balm to soothe sore throats and hacking coughs. (4)
Honey has antimicrobial properties that help improve the healing process and reduce healing time. (5)
To Strain or Not to Strain?
Once your rose honey has finished infusing, it's totally up to you if you choose to strain out the rosehips and petals. Some people prefer a smooth honey with no crunchy bits, and some people enjoy the texture and beauty! It's all up to you.

Rose-Infused Honey
Author:
Magdalena Wszelaki
Ingredients
1 cup raw honey
¼ cup rose petals
¼ cup rose hips
How To Make
Sun Method
Place rose petals and rose hips in a sterilized glass jar, pour honey on top.
Stir with a clean spoon to coat fully with honey. Seal jar tightly. Label with recipe name and date.
Infuse honey by placing jar in a sunny spot for a week, or 2-4 weeks for a stronger infusion.
Strain honey with a fine mesh strainer (optional). This can take a while for the herb-infused honey to drip out. I like to set up my strainer over a clean jar and do other things while it takes its sweet time.
Seal jar and store in a cool, dry place (usually your cupboard or pantry works).
Stovetop Method
Add 2 cups of water to the pot of a double-boiler and place a bowl on top. Pour honey into bowl and heat over very low heat. Add rose petals and rose hips. Heat for 4 hours, adding extra water to pot as needed.
Turn heat off and carefully pour honey through a fine mesh strainer into a sterile jar. Cool honey for 1 hour at room temperature.
Seal jar and store in a cool, dry place.
Find more hormone-balancing recipes in Overcoming Estrogen Dominance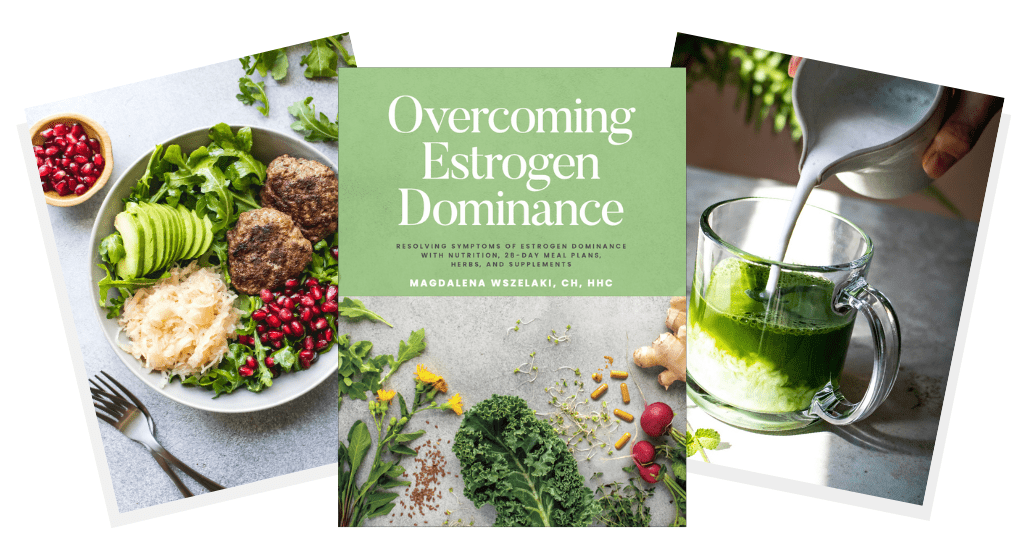 In Overcoming Estrogen Dominance, my goal is to empower and give you the tools to take control of your hormones and health.
More than 70% of women experience estrogen dominance. The symptoms range from lumpy and fibrocystic breasts to thyroid nodules, hot flashes, fibroids, uterine polyps, painful, heavy or irregular periods to infertility and miscarriages, from mood swings to insomnia, weight gain to fatigue.
In Overcoming Estrogen Dominance, I give women a roadmap to reverse estrogen dominance using food, herbs, supplements and natural protocols to rebalance hormones. You'll also find easy, hormone-balancing recipes that are free of gluten, dairy, soy, corn, eggs, and nightshades. These recipes are highly anti-inflammatory, low in sugar, and made with powerful medicinal ingredients to help heal your body naturally.
To get your copy of Overcoming Estrogen Dominance, go here.
References
Vinokur, Yakov, et al. "Rose Petal Tea as an Antioxidant‐Rich Beverage: Cultivar Effects." Wiley Online Library, John Wiley & Sons, Ltd, 31 May 2006.
Miguel, M G et al. "Honey as a Complementary Medicine." Integrative medicine insights vol. 12 1178633717702869. 24 Apr. 2017.
Ezz El-Arab, Aly M et al. "Effect of dietary honey on intestinal microflora and toxicity of mycotoxins in mice." BMC complementary and alternative medicine vol. 6 6. 14 Mar. 2006.
Paul, Ian M et al. "Effect of honey, dextromethorphan, and no treatment on nocturnal cough and sleep quality for coughing children and their parents." Archives of pediatrics & adolescent medicine vol. 161,12 (2007): 1140-6.
Nolan, Victoria C et al. "Dissecting the Antimicrobial Composition of Honey." Antibiotics (Basel, Switzerland) vol. 8,4 251. 5 Dec. 2019.