Cool off this summer with the perfect low-sugar treat. With just six ingredients, this Mango Vanilla Sorbet is deliciously simple to make with some surprising health benefits. An indulgent treat with no guilt attached.
Ingredient Benefits
Anti-inflammatory:

Both mango and turmeric are celebrated for their anti-inflammatory and antioxidant benefits. The black pepper adds a subtle bite to the flavor, while also enhancing the absorption of curcumin (the key active ingredient in turmeric).

Digestive support: The combination of mango, banana, and almond milk creates a sorbet that is rich in dietary fiber to support digestion. Turmeric is used as a digestive healing agent in traditional medicine practices. (1)
No added sugar: Naturally sweet from the mango and banana, there are no added sugars or even sugar replacements. The high fiber content of mango, bananas, and almond milk may also help moderate blood sugar levels. (2)
Tips
Pick a firm turmeric root (no mushy spots) that is orange or light brown in color. Fresh turmeric root can be peeled using just a spoon (like ginger), but you can also use a vegetable peeler if you have one handy. 

To select a vanilla bean pod, look for a robust and glossy bean. Split the pod in half with a paring knife and then use the dull side of the knife to scrape out the seeds. You can also buy vanilla bean paste at many health food stores or online. 

If freezing longer than the recommended 2-4 hours, thaw for 15-20 minutes at room temperature until sorbet can be scooped. Running a scoop quickly under hot water can also help.
Refreshing Mango Vanilla Sorbet
Author:
Magdalena Wszelaki
Ingredients
4 cups chopped frozen mango
1 large ripe banana, sliced into 1 inch pieces
⅔ cup unsweetened almond milk
2 tablespoons peeled and chopped fresh turmeric
1 teaspoon vanilla bean paste
Pinch of black pepper
How To Make
Combine all ingredients in a food processor and blend until mostly smooth.
Transfer to a loaf pan and spread evenly with a spatula. Cover and freeze for 2-4 hours. Scoop into bowls and serve right away. If freezing longer, thaw for 15-20 minute at room temperature until sorbet can be scooped.
Find more hormone-balancing recipes in Overcoming Estrogen Dominance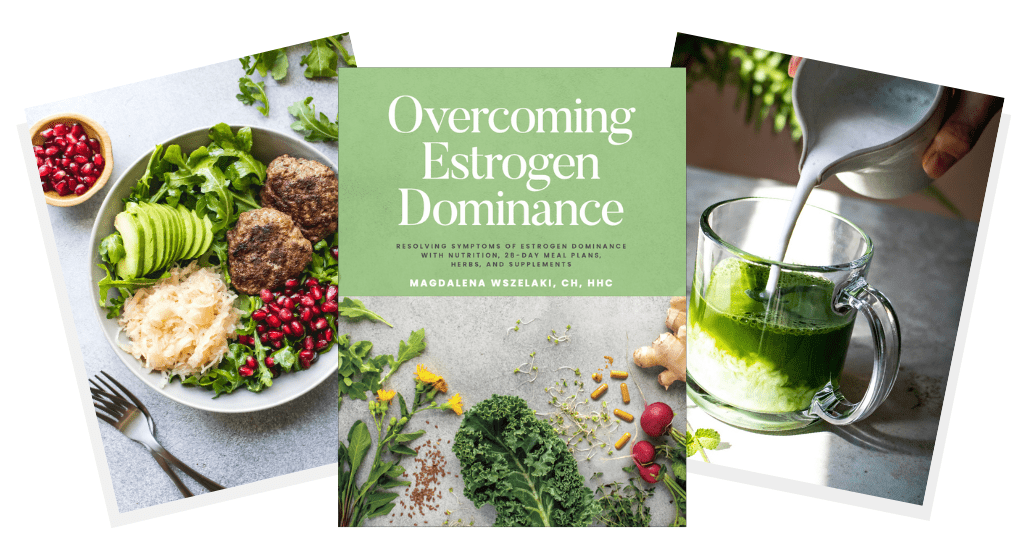 In Overcoming Estrogen Dominance, my goal is to empower and give you the tools to take control of your hormones and health.
More than 70% of women experience estrogen dominance. The symptoms range from lumpy and fibrocystic breasts to thyroid nodules, hot flashes, fibroids, uterine polyps, painful, heavy or irregular periods to infertility and miscarriages, from mood swings to insomnia, weight gain to fatigue.
In Overcoming Estrogen Dominance, I give women a roadmap to reverse estrogen dominance using food, herbs, supplements and natural protocols to rebalance hormones. You'll also find easy, hormone-balancing recipes that are free of gluten, dairy, soy, corn, eggs, and nightshades. These recipes are highly anti-inflammatory, low in sugar, and made with powerful medicinal ingredients to help heal your body naturally.
To get your copy of Overcoming Estrogen Dominance, go here.
References
Thavorn, K., Mamdani, M.M. & Straus, S.E. "

Efficacy of turmeric in the treatment of digestive disorders: a systematic review and meta-analysis protocol

."

Syst Rev

3, 71 (2014).

Wang PY, Fang JC, Gao ZH, Zhang C, Xie SY. "Higher intake of fruits, vegetables or their fiber reduces the risk of type 2 diabetes: A meta-analysis." Journal of diabetes investigation vol. 7,1 (2016).