When sweater weather arrives, a good pumpkin latte always hits the spot. However, while a certain coffee shop may be a convenient option, store-bought lattes tend to contain 12 to 36 teaspoons of sugar. To skip the sugar tsunami, try making your own at home. It's much easier than you think — thanks to this tasty recipe filled with good-for-you ingredients.
Ceylon Cinnamon Vs Regular Cinnamon
One way of adding some spice and health benefits to your latte is to add a sprinkle of ground cinnamon. Cinnamon has many benefits, including regulating blood sugar and having anti-diabetic effects, but did you know that cinnamon can also help balance your hormones? Cinnamon contains a natural chemical called cinnamaldehyde, which studies show can increase progesterone and decrease the production of testosterone in women, helping to improve the chances of fertility.
Be careful which type of cinnamon you use though, as not all cinnamon is equal. In general, opt for the Ceylon variety, which tends to be a little more expensive but is superior compared to the more common cassia version. Ceylon cinnamon, which is native to Sri Lanka, contains significantly less of the compound coumarin. Coumarin, a flavoring substance, can be toxic to the liver and kidneys in large doses.
Ceylon cinnamon, or "real" cinnamon, helps to manage blood pressure, has anti-inflammatory benefits and antioxidant effects, and has even been shown to help protect against neurological disorders, such as Parkinson's and Alzheimer's diseases. Who knew cinnamon could do so much?
Buying Pumpkin Puree
If you're going to buy store-bought pumpkin puree, make sure you opt for the organic kind with no added sugar or preservatives. Pumpkin is a nutrient-dense food loaded with vitamins and minerals and is a good source of fiber. So, you don't want to offset those benefits with too much sugar.
Using Tea to Replace Coffee
I recommend using freshly brewed tea instead of coffee in this pumpkin cinnamon latte because coffee can negatively affects your hormones in many ways, such as raising blood sugar levels, creating cravings for sugar and carbohydrates, and damaging the gut lining. To have a deeper understanding of coffee's impact on our hormones, I suggest that you read my article on coffee and healthier substitutes here. While not everybody may not be affected by coffee, I still recommend drinking a high quality tea. In this article on tea you can read all about the benefits that tea provides.
For this recipe, I like to use the Chaga Energy tea from Pique because it's a good energy booster without the negative side effects of giving you jitters. If you want something with a bit of caffeine, you can also try their Early Grey Black tea.
Learn how to add more hormone-balancing ingredients to your meals with our FREE 15 Breakfasts to Rebalance Your Hormones guide here.

Pumpkin Cinnamon Latte
Equipment: High-speed blender
Author:
Magdalena Wszelaki
Ingredients
1 cup warm coconut milk
¾ cup pumpkin purée
1 tablespoon raw honey
1 teaspoon ground cinnamon + more for garnish
½ cup freshly brewed black tea (we recommend Earl Grey black tea from Pique)
¼ cup whipped coconut cream, for topping
¼ teaspoon ground turmeric, for sprinkling
¼ teaspoon ground flaxseed, for sprinkling
How To Make
Combine warm coconut milk, pumpkin puree, honey, and ground cinnamon in the bowl of your high-speed blender. Blend for at least 20 seconds until you get a frothy and homogeneous mixture.
Divide the tea evenly between two clear glass mugs, and fill the rest of the mugs with the pumpkin coconut mixture.
Top the pumpkin cinnamon latte with freshly whipped coconut cream and sprinkle with ground cinnamon, ground turmeric, and ground flaxseed.
Serve immediately.
Notes
Make Your Own Pumpkin Purée: You can use store-bought pumpkin purée, or make your own at home by roasting a whole pumpkin in the oven at 350ºF for about 1 hour until tender. After roasting, carefully slice the pumpkin in half, scoop out the seeds, and then mash the flesh until you get pumpkin purée.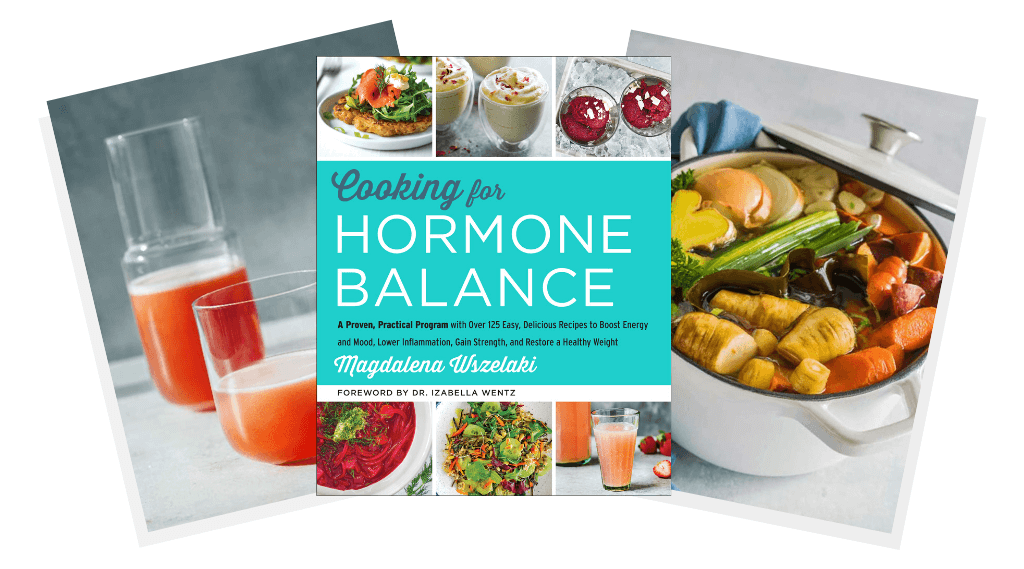 In my cookbook, Cooking For Hormone Balance, you'll find over 125 easy, delicious recipes to nourish your body and balance your hormones without calorie restriction or deprivation.
All of the recipes are based on 20 hormone-supporting superfoods and 20 hormone-supporting super herbs—with modifications for Paleo, Paleo for Autoimmunity (AIP), anti-Candida, and low-FODMAP diets.
You can get a copy of the cookbook here.
Resources
https://www.ncbi.nlm.nih.gov/pmc/articles/PMC3326760/
https://www.ajog.org/article/S0002-9378(14)00446-3/pdf
https://www.ncbi.nlm.nih.gov/pmc/articles/PMC4003790/