While on the Candida cleanse, it's completely normal to get cravings for sweet desserts because the Candida yeast needs sugar to thrive. It is important that you are able to eat a healthy dessert that can satisfy your cravings without deviating from the diet. That is why I developed this recipe for a no-bake gluten-free lemon tart that is sweetened only by stevia. To learn more about Candida causes, symptoms, and diagnosis, check out my recent post here.
The tart crust is made with processed sunflower seeds, unsweetened shredded coconut, cocoa powder and melted coconut oil. The sunflower seeds are high in protein and low in carbohydrates, and the shredded coconut and cocoa powder give the tart crust a nice flavor. The smooth creamy filling uses soaked raw cashews, lemon juice and lemon zest as its base, and has a fresh citric flavor that makes the dessert delicious without being too sweet.
This lemon tart is extremely simple to make as long as you have a good quality food processor or electric blender. With just 30 minutes of hands-on time, and two hours of chilling time, you get an amazingly healthy but flavorful dessert that everyone will love.
Learn how to add more hormone-balancing ingredients to your meals with our FREE 15 Breakfasts to Rebalance Your Hormones guide here.

No Bake Gluten Free Lemon Tart Recipe
Author:
Magdalena Wszelaki
Ingredients
For the crust:
1 ½ cups sunflower seeds
1 cup unsweetened shredded coconut
½ cup unsweetened cocoa powder
⅓ cup coconut oil, melted
For the filling:
1 ½ cups raw cashews, soaked for at least 15 minutes in hot water
½ cup water
¼ cup lemon juice
2 tablespoons lemon zest
4 drops liquid stevia
⅓ cup coconut oil, melted
2 teaspoons agar-agar powder
How To Make
Grease a small round tart pan.
Start off with the crust. Place the sunflower seeds, unsweetened shredded coconut and unsweetened cocoa powder in the bowl of your food processor or electric blender. Process until you get a crumbly mixture.
Pour the mixture into a large bowl and add in the melted coconut oil. Use a spoon the mix it all together until combined.
Press down the crust mixture into the prepared tart pan, as tightly as you possible can. Make sure to cover the whole surface of the pan.
Let the crust chill in the refrigerator for 30 minutes while you work on the filling.
For the filling, start off by dissolving the agar-agar powder in one tablespoon of room temperature water.
Place the soaked cashews, water, lemon juice, lemon zest, liquid stevia, melted coconut and dissolved agar-agar into the bowl of food processor or blender (make sure it's clean before adding the ingredients), and process until you get a thick but creamy mixture.
Once the crust has finished chilling and is firm, pour the filling on top of the crust and spread it out with the back of a spoon.
Allow the lemon tart filling to chill in the refrigerator for a least one hour until it is firm before slicing and serving.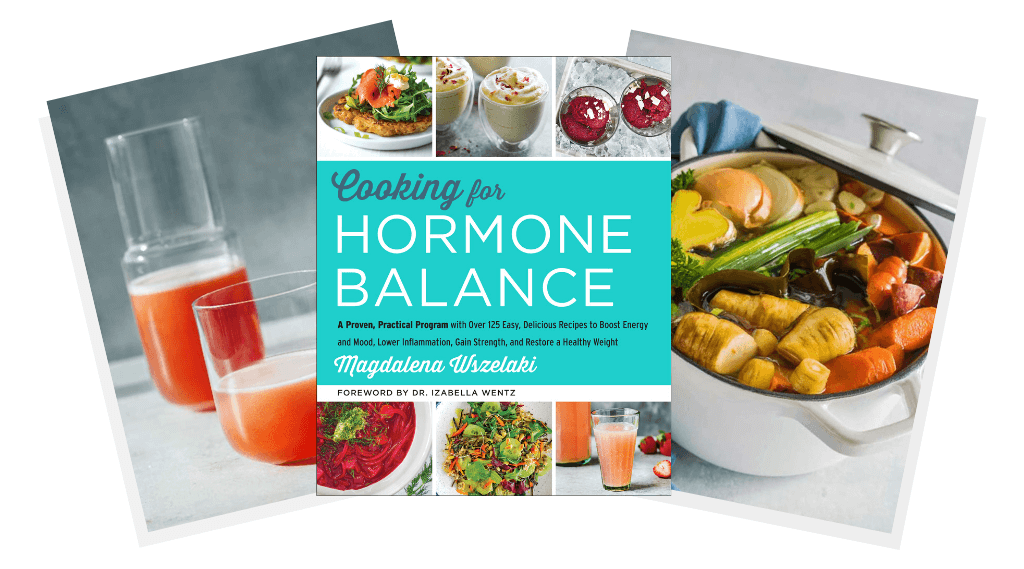 In my cookbook, Cooking For Hormone Balance, you'll find over 125 easy, delicious recipes to nourish your body and balance your hormones without calorie restriction or deprivation.
All of the recipes are based on 20 hormone-supporting superfoods and 20 hormone-supporting super herbs—with modifications for Paleo, Paleo for Autoimmunity (AIP), anti-Candida, and low-FODMAP diets.
You can get a copy of the cookbook here.