Sleep soundly with this dream-promoting pillow that can be tucked into your pillowcase to help you sleep. You just need an old cotton t-shirt, lavender, mugwort (more about that below). and some thread to get started.
What is Mugwort?
Mugwort or Artemisia Vulgaris is an herb native to Europe, Asia and North America. It's believed that mugwort can cause vivid dreams and help increase dream recall. Note: This pillow may induce lucid dreams, as the name implies. The herb also helps create a sense of calm, easing you into sleep.
Mugwort has been used for thousands of years for its medicinal properties. Healers use mugwort in their practice to help people who have trouble dreaming, often due to stress. Stress can inhibit the ability to relax even when asleep and disturb sleep cycles and cause insomnia.
This unique herb has a mild earthy scent that can be paired with other forms of aromatherapy herbs like chamomile, lavender or mint. The pillow is filled with a combination of dried mugwort and lavender buds. Lavender is commonly used in body care and sleep promoting products for its calming properties. Inhaling the scent of lavender is found to have a relaxing effect on the central nervous system.
Other ways to enjoy the dream-promoting benefits of mugwort include…
Burn as incense
Drink mugwort tea
Caution: Mugwort can stimulate menstruation. It is very important you do not consume it if you are pregnant or think you may be.
Dream On-The-Go
The small size of this pillow insert makes it great for travel as it can easily be inserted into any pillow or packed in a suitcase. Place your lucid dream pillow inside your pillowcase or on top and inhale while you unwind about 30 minutes before you plan to go to sleep. You can also place this pillow on a nearby nightstand and inhale its soothing aroma.
To learn more about how to rebalance your hormones with everyday herbs, I invite you to join our Herbs for Balance Program here.

Lucid Dream Pillow with Mugwort
Equipment
Scissors
Sewing tape
Sewing machine
Thread

Supplies
10-inch square 100% cotton fabric (an old cotton t-shirt will do)
3/4 cup dried mugwort
2 tablespoons dried lavender buds
Author:
Magdalena Wszelaki
How To Make
Measure and cut material approximately 5-by-10 inches. Fold the fabric in half (inside out) so that it measures a 5-inch square and you will only have to sew 3 sides.
Sew 2 sides taking a ¼ inch seam allowance.
Sew 3rd side but leave a large enough opening for filling.
Turn right side out and fill with lavender and mugwort.
Sew closed. You can sew by hand or use a sewing machine.
Notes
Note: Finished product is approximately 4½ x 4½ inches.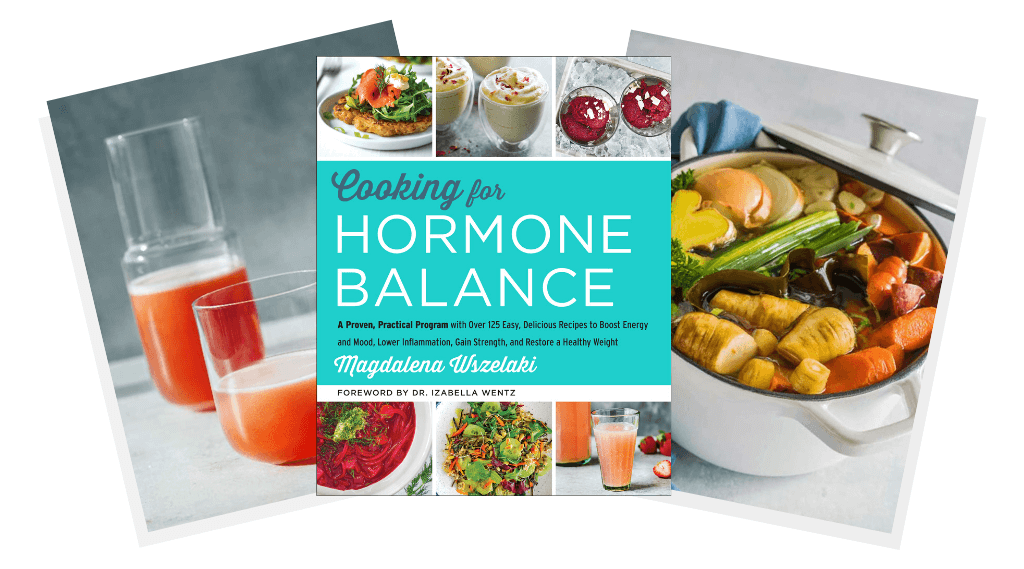 In my cookbook, Cooking For Hormone Balance, you'll find over 125 easy, delicious recipes to nourish your body and balance your hormones without calorie restriction or deprivation.
All of the recipes are based on 20 hormone-supporting superfoods and 20 hormone-supporting super herbs—with modifications for Paleo, Paleo for Autoimmunity (AIP), anti-Candida, and low-FODMAP diets.
You can get a copy of the cookbook here.