This ruby, deep velvety drink is not only delectable and a candy to look at but it's highly medicinal, too. You can easily make it at home. Hibiscus is very high in vitamin C, lowers blood pressure, it's anti-inflammatory and helps the immune system. Rosebuds are astringent and help heal the G.I. mucosa. Rosemary is a brain booster. Cardamom it's a carminative (helps with gas).
Hope you try it! I buy all my herbs on Amazon, organic from either Starwest (see my recommendations below) or Frontier.
This infusion is strong, almost like a concentrate. You don't need a lot to enjoy! Replace honey with stevia or monk fruit if avoiding sugar. It's a great "mocktail" option if you're participating in Dry January, or abstaining from alcohol for any reason.

Hibiscus Rose Cooler
Equipment: Strainer and large glass bowl
Author:
Magdalena Wszelaki
Ingredients
⅔ cup dried hibiscus flower
½ cup rosebuds
1 tablespoon dried rosemary or 1 sprig fresh rosemary
10 cardamom pods, crushed
1 quart plus one cup hot water
¼ cup raw local honey
Ice and sparkling water to serve
How To Make
Place all the herbs in a large glass bowl. Mix well and pour hot water over, and let steep for 2 hours, or longer but not exceeding 12 hours.
Once done steeping, strain the liquid and add honey. Serve over ice or with sparkling water.
Notes
Storage: Keep refrigerated and consume within a month.
Find more hormone-balancing recipes in Overcoming Estrogen Dominance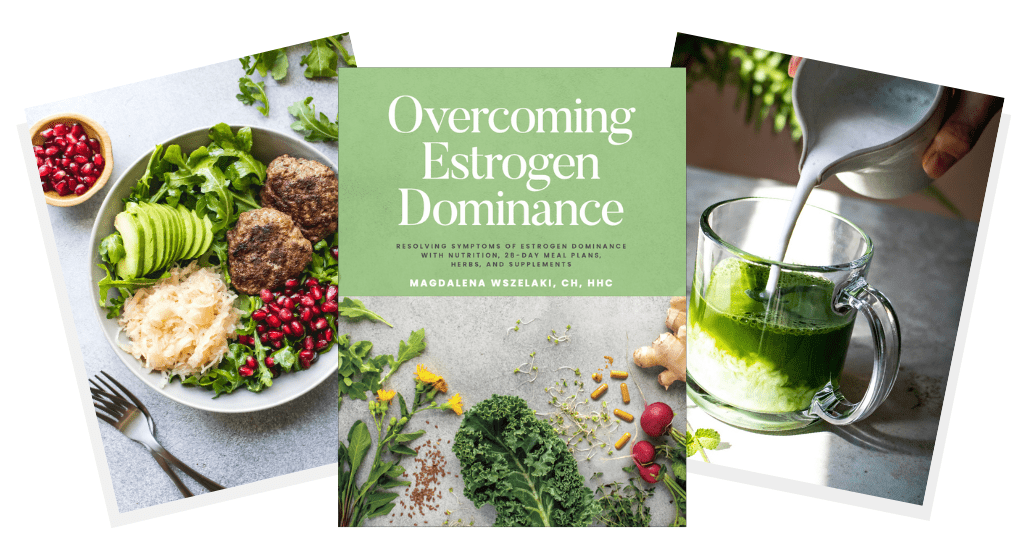 In Overcoming Estrogen Dominance, my goal is to empower and give you the tools to take control of your hormones and health.
More than 70% of women experience estrogen dominance. The symptoms range from lumpy and fibrocystic breasts to thyroid nodules, hot flashes, fibroids, uterine polyps, painful, heavy or irregular periods to infertility and miscarriages, from mood swings to insomnia, weight gain to fatigue.
In Overcoming Estrogen Dominance, I give women a roadmap to reverse estrogen dominance using food, herbs, supplements and natural protocols to rebalance hormones. You'll also find easy, hormone-balancing recipes that are free of gluten, dairy, soy, corn, eggs, and nightshades. These recipes are highly anti-inflammatory, low in sugar, and made with powerful medicinal ingredients to help heal your body naturally.
To get your copy of Overcoming Estrogen Dominance, go here.