Naturally sweet and gently spiced, this carrot ginger soup is the perfect meal to warm you from the inside out. You'll find the slight sweetness of carrots pairs beautifully with spicy, anti-inflammatory ginger and cloves.
To cut through these bold flavors, we've included a few dashes of coconut aminos and savory onion. The soup is finished with coconut milk for an irresistible velvety finish.
Ingredient Benefits
If those flavors didn't entice you, maybe this amazing nutritional profile will. This soup offers some great health benefits, like:
Anti-inflammatory:

Ginger is a known antioxidant with anti-inflammatory compounds, which may help to support a healthy immune system, combat free radicals, and slow down aging. Some evidence suggests cloves have anti-inflammatory properties too.

(1)

Fiber-rich:

Carrots are loaded with pectin, a soluble fiber that can help lower blood sugar by slowing your digestion of sugars and starches. They also feed the healthy bacteria in your gut, improving your gut microflora.

(2)

Loaded with vitamins and minerals:

Carrots especially contain several vitamins and minerals that nourish your body, including vitamin A (from beta carotene), biotin, vitamin K1, potassium, and vitamin B6.
Tips
Feel free to garnish your soup with a drizzle of coconut yogurt for extra creaminess and tang, a few sprigs of cilantro for freshness, and some raw pumpkin seeds for crunch. The options are endless.

If your blender base is small, blend the soup in two or three batches. Do not fill the blender beyond the maximum level, especially with warm to-hot ingredients because the steam will create pressure and can cause burns. Cover the lid with a kitchen towel and hold it down while blending. Or, use a handheld immersion blender.

We'd serve this soup alongside some comforting, nutritious

cardamom apple muffins

or fluffy

gluten-free biscuits

.
Carrot Ginger Soup
Author:
Magdalena Wszelaki
Ingredients
4-inch piece fresh ginger, peeled and roughly chopped
2 cups filtered water
2 pounds carrots, washed and chopped
1 cup full-fat coconut milk
1 medium white onion, chopped
3 garlic cloves
1 tablespoon ghee
1 teaspoon sea salt
¼ cup coconut aminos
Coconut yogurt
2 tablespoons fresh cilantro, chopped
Raw pumpkin seeds
How To Make
In a high-speed blender, combine the ginger and water and blend to make a "ginger broth." Transfer the broth to a medium, heavy-bottomed pot.
Add the carrots, milk, onion, garlic, ghee, salt, and coconut aminos and stir to combine. Set the heat to high and bring to a boil. Reduce the heat to low, cover, and simmer for 12 minutes, or until the carrots have softened.
Turn off the heat, uncover, and allow the soup to cool for 10 to 15 minutes.
Transfer the soup to a blender. Start blending on low and gradually go to high until the soup is silky smooth. Alternatively, puree the soup directly in the pot with a handheld immersion blender.
Reheat the soup, if necessary. Transfer half of the soup to a small pot and heat on low for a few minutes.
Ladle the soup into bowls and serve with a dollop of coconut yogurt, cilantro, and pumpkin seeds. A fluffy gluten-free muffin with ghee is a fantastic addition.
Find more hormone-balancing recipes in Overcoming Estrogen Dominance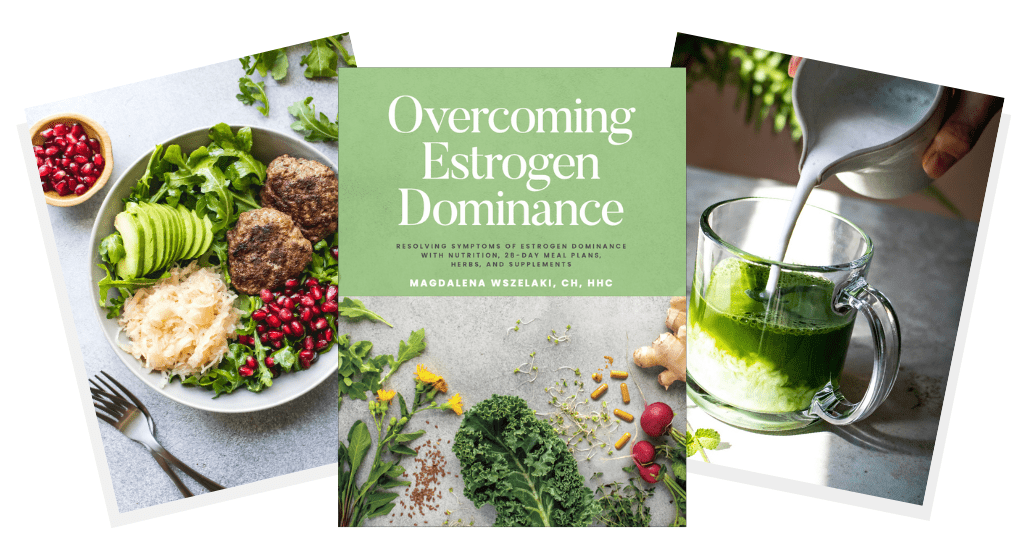 In Overcoming Estrogen Dominance, my goal is to empower and give you the tools to take control of your hormones and health.
More than 70% of women experience estrogen dominance. The symptoms range from lumpy and fibrocystic breasts to thyroid nodules, hot flashes, fibroids, uterine polyps, painful, heavy or irregular periods to infertility and miscarriages, from mood swings to insomnia, weight gain to fatigue.
In Overcoming Estrogen Dominance, I give women a roadmap to reverse estrogen dominance using food, herbs, supplements and natural protocols to rebalance hormones. You'll also find easy, hormone-balancing recipes that are free of gluten, dairy, soy, corn, eggs, and nightshades. These recipes are highly anti-inflammatory, low in sugar, and made with powerful medicinal ingredients to help heal your body naturally.
To get your copy of Overcoming Estrogen Dominance, go here.
References
Taher, Yousef A et al. "

Experimental evaluation of anti-inflammatory, antinociceptive and antipyretic activities of clove oil in mice.

" The Libyan journal of medicine vol. 10 28685. 1 Sep. 2015.

Slavin, Joanne. "

Fiber and prebiotics: mechanisms and health benefits.

" Nutrients vol. 5,4 1417-35. 22 Apr. 2013.