I first had Castagnaccio during my visit at the Swiss Mountain Clinic. This chestnut cake can be found in the rural areas of Italy, and is common in Tuscany during the Autumn season. However, I like to enjoy this year round, as it's simple to make and an easy way to add hormone-balancing seeds to your diet.
For my version of this classic recipe, the center of the cake stays silky and slightly chewy while the outside bakes golden brown. This is because of full-fat coconut milk, ghee and honey combining for a sweet and custard-like batter.
Ginger and vanilla extract create a warm spice flavor and aroma. Fresh ginger bakes seamlessly into the cake leaving behind subtle spiced notes.
What is Chestnut Flour?
Chestnut flour is made of finely ground dried chestnuts with the skins removed. The flour is light and airy with a more distinct nutty flavor and aroma than almond flour. Note: This specialty flour hasn't made its way onto supermarket shelves as readily as almond flour, so purchase it online in advance.
Adding Seeds for Balance
To finish the cake off, sesame seeds and pumpkin seed kernels are added to the top. They add crunchy texture to the silky smooth cake, and help support hormone balance, too.
Pumpkin seed kernels are a rich source of omega-3's which may help reduce symptoms of PMS like bloating, headache and depression.
Sesame seeds are an excellent source of zinc and selenium. Zinc is found to increase progesterone production. Too low or fluctuations in progesterone may lead to PMS symptoms.
To learn more about how to balance your hormones with supplements (and which to take), you can download our FREE Supplement Guide here.

Chestnut Flour Cake with Hormone-Balancing Seeds
Equipment: 7-inch round cake pan
Author:
Magdalena Wszelaki
Ingredients
1 cup unsweetened full-fat coconut milk, at room temperature
½ cup raw honey
¼ cup ghee, melted
2 tablespoon fresh ginger, peeled and minced
1 teaspoon vanilla extract
2 cups chestnut flour, plus more for dusting
1 teaspoon aluminum-free baking powder
½ teaspoon sea salt
2 tablespoon raw pumpkin kernels
2 teaspoon sesame seeds
How To Make
Preheat oven to 325ºF. Line a 7-inch round cake pan with parchment paper and grease sides with ½ tsp of ghee.
Stir together melted ghee, honey, ginger, coconut milk and vanilla extract in a medium mixing bowl until honey is well incorporated. In a separate medium mixing bowl, stir together chestnut flour, baking powder and sea salt. Gradually stir wet ingredients into dry.
Pour into prepared pan and spread evenly with a spatula. Sprinkle sesame seeds and pumpkin seed kernels on cake. Bake on center rack in oven for 35-40 minutes, until center is set and edges are golden brown.
Cool cake in pan for 10 minutes. Invert cake onto a cooling rack. Cool for 20 minutes longer. Dust with chestnut flour and cut into 8 slices.
Notes
Storage: Store leftover cake in an airtight container in a cool, dry spot for up to 5 days.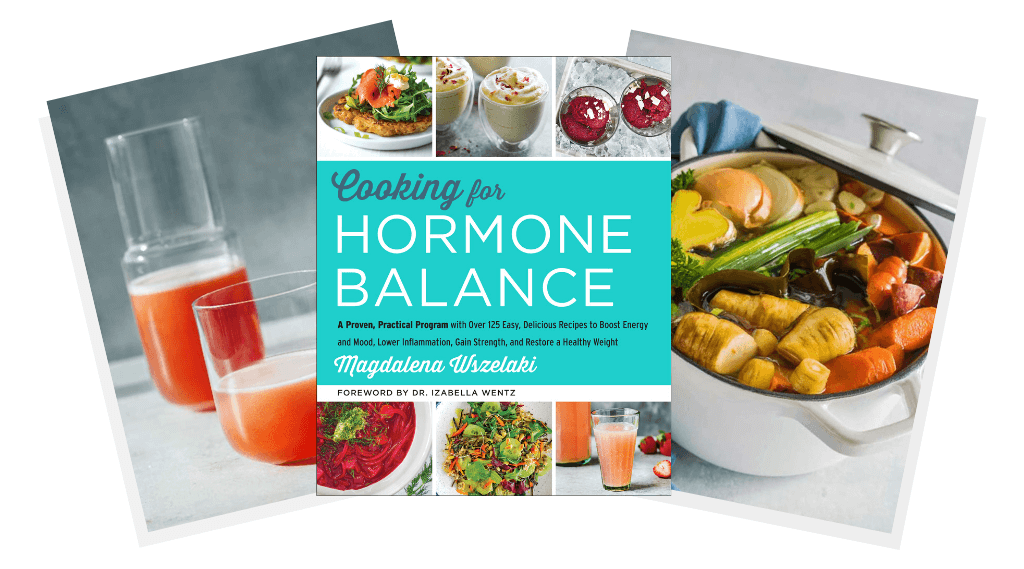 In my cookbook, Cooking For Hormone Balance, you'll find over 125 easy, delicious recipes to nourish your body and balance your hormones without calorie restriction or deprivation.
All of the recipes are based on 20 hormone-supporting superfoods and 20 hormone-supporting super herbs—with modifications for Paleo, Paleo for Autoimmunity (AIP), anti-Candida, and low-FODMAP diets.
You can get a copy of the cookbook here.