What You Will Learn in This Article
What is chasteberry?
Traditional uses of chasteberry
Modern uses of chasteberry, supported by science
Biochemistry of chasteberry
A word of caution about chasteberry adverse reactions
How to take chasteberry
What is Chasteberry?
Chasteberry (also called chaste tree berry or vitex) is the fruit of the Chaste Tree, which is native to western Asia and southwestern Europe. Its botanical (Latin) name is Vitex agnus-castus. People have been consuming this fruit for over 2,500 years, going all the way back to ancient Egypt, Greece, and Rome. (1) Even Plato (circa 428-348 BC) mentioned chaste berry as a potential aphrodisiac.
Traditional Uses of Chasteberry 
Wise women of history used chaste berries for women's reproductive health complaints, including menstrual flow issues and premenstrual-related symptoms, like mood disorders, breast pain, cramps, and migraines. It's also been used to stimulate milk production in nursing mothers. 
While Plato recommended taking some chasteberry to stimulate sexual desire, less is more. In higher doses, it can actually have the opposite effect. That's why Medieval monks supposedly used chasteberry during the time of the crusades. It helped to reduce women's sex drive while their men were away from home; hence, its nickname, monk's pepper. However, there is no clinical data to support chaste berry for that purpose (or Plato's either). (1) 
Modern Uses of Chasteberry, Supported By Science
The most popular use for chasteberry in modern times is for premenstrual symptoms and breast pain. There are a couple of other conditions where chasteberry may be sought out, but the evidence supporting its use is limited.
The German Commission E (comparable to the United States Food and Drug Administration, FDA) has approved it for the treatment of menstrual irregularities, period-related breast pain, and PMS, so it's commonly prescribed by family doctors and gynecologists in Germany. (1)
Premenstrual Syndrome (PMS) 
Chasteberry has been studied and shown to be beneficial for PMS and its related symptoms, like mood disorders, breast pain (mastalgia), fluid retention, migraines, etc. In a study of 170 women with an average age of 36, those who had received the chasteberry over three menstrual cycles reported a significant improvement in all symptoms compared to the placebo group. (2)
A review study published in 2017 found that chasteberry was effective in treating PMS and Premenstrual Dysphoric Disorder (PMDD — a severe form of PMS with extreme mood shifts). It helped lower inflammation and alleviate pain related to these conditions and decreased the frequency and duration of migraine attacks. (3)  
The herb may work by stimulating the mu-opioid receptors of the brain to block pain. It mimics the effects of endorphins, making us feel better. (4) 
Another study went on to explain that by acting like beta-endorphins, chasteberry may work by inhibiting gonadotropin-releasing hormone (GnRH) in the hypothalamus, which then causes a release of luteinizing hormone (LH) and follicle stimulating hormone (FSH) from the pituitary gland. That leads to the regulation of estrogen and progesterone production in the ovaries.  (5)
The great thing about chasteberry is we know that, unlike opium from poppies, it's been used for hundreds of years to lower pain without any addiction problems. While its pain-relieving effects only seem to apply to menstrual discomfort, chasteberry is a great natural "go-to" for PMS misery. 
Breast Pain
Chasteberry has long been used to treat breast pain associated with PMS. In a 2020 review study published in the Journal of Women's Health, researchers included 25 studies and found that chasteberry was effective in lessening the pain and lowering blood levels of prolactin, which are associated with breast pain. The dosage ranged between 20 and 40 milligrams a day and was taken over a span of 3 months. (6) 
Infertility and Miscarriage
There are several causes of infertility, and it's thought that Chasteberry can help with a couple of causes: endometriosis and the lack of ovulation. This herb may also help stop the pattern of repeated miscarriages. However, at this point, research and evidence are still lacking.
Insufficient Milk Production 
Chasteberry is sometimes used for insufficient milk production, which may improve when taken at small doses. However, researchers caution against using it for that purpose due to the lack of scientific evidence backing it up. 
Menopause?
It's often helpful for women going into menopause because it can raise progesterone levels, which may help ease hot flashes and night sweats. As far as research goes, there are not yet any Randomized Controlled Trials (RCTs) to support using chasteberry for menopause. However, many women benefit from it. In fact, many feel they can't live without it. 
Supplement companies often combine chasteberry with other herbs to create hormone-supporting formulas. In a study conducted in Israel, postmenopausal women were given a chasteberry-containing supplement twice a day for 3 months. By the end of the study, menopausal symptoms had improved significantly, including sleep issues, hot flashes, and night sweats. (7)
Biochemistry of Chasteberry
Chasteberry's benefits for women's health are backed up by science, yet scientists aren't yet sure exactly how it works. 
There's some evidence that it increases dopamine and as a result, lowers prolactin, which may explain why it helps with menstrual irregularities. However, that wouldn't make sense in the case of it stimulating milk production (in which case, it should increase prolactin). However, it may be dose-dependent, with lower amounts increasing prolactin and higher amounts doing the opposite.
Some studies also suggest it works by impacting other hormones, including luteinizing hormone (LH), follicle-stimulating hormone (FSH), estrogen, and progesterone. 
At 400 mg daily, chasteberry supports the production of LH, which initiates ovulation. This helps increase the progesterone-to-estrogen ratio.
Adverse Reactions to Chasteberry 
For some women (me included), chasteberry has the opposite effect – it causes mid-cycle spotting and my ovaries start pulsating. I know many other women who have similar reactions. It's one of those herbs you just have to try and see how it affects you. We're all different and we need to respect it.
How to Take Chasteberry
According to herbal reference guides, the recommended dosage of chasteberry is 30 to 40 mg once a day. However, it may be taken up to 500 to 1000 mg a day. In tincture form, the dosage is generally 0.2 mL two to three times a day but can be taken up to 3 to 5 mL a day at a 1:5 strength. Herbal practitioners often recommend taking it once daily at breakfast time.
You can find chasteberry at a dosage of 50 mg a day in our supplement, Wise Women's Balance. Wellena's Wise Women's Balance (WWB) is a blend of vitamins, minerals, and botanical extracts designed to support healthy female hormone levels, both during menstruation and through menopause. It contains a synergistic blend of nutrients designed to aid the body's natural hormonal balance.
Some of the other ingredients in this powerful formula are DIM (diindolylmethane), broccoli seed extract (glucoraphanin), and Calcium D-Glucarate. These support the liver in detoxing excess "dirty" estrogens. 
Besides chasteberry, WWB also contains black cohosh to balance hormones, reduce hot flashes, and keep testosterone from converting into estrogen — reducing estrogen dominance.  
B vitamins, magnesium, and antioxidants (green tea extract and resveratrol) further support metabolism and overall wellness.
What questions do you have about chasteberry? Have you used chasteberry with success? Leave your experience in the comments.
Learn more with Overcoming Estrogen Dominance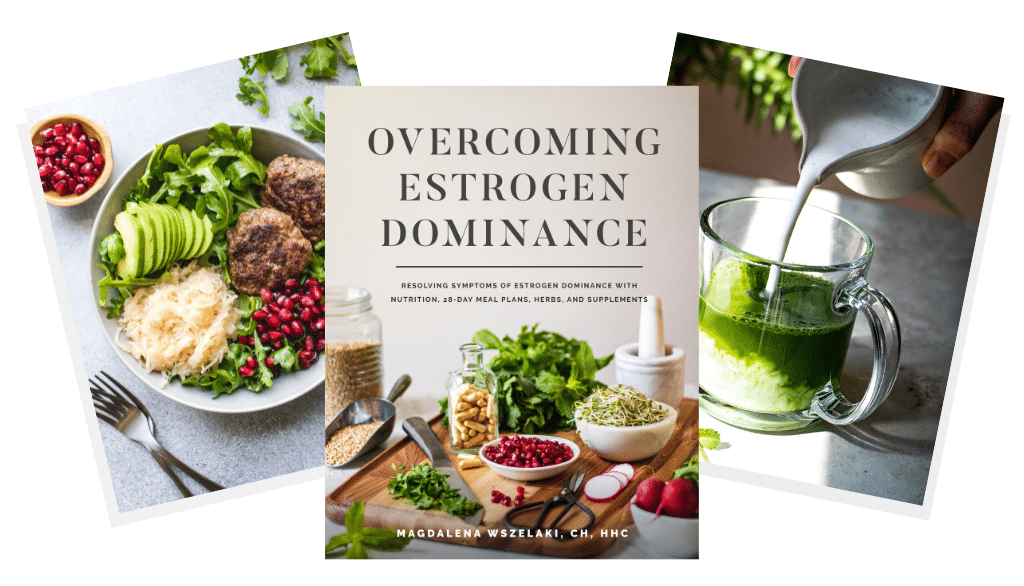 "The body has an amazing ability to heal. We just need to give it the right resources."
In Overcoming Estrogen Dominance, my goal is to empower and give you the tools to take control of your hormones and health.
More than 70% of women experience estrogen dominance. The symptoms range from lumpy and fibrocystic breasts to thyroid nodules, hot flashes, fibroids, uterine polyps, painful, heavy or irregular periods to infertility and miscarriages, from mood swings to insomnia, weight gain to fatigue.
So many women have experienced the pain and frustration that comes when they feel their symptoms and complaints are dismissed or minimized. This is particularly true for women who are experiencing the symptoms of hormone imbalance. Even when doctors do offer treatment, it's typically in the form of prescription medication or invasive surgical procedures.
In Overcoming Estrogen Dominance, I hope to show that those extreme interventions are often unnecessary, and to give women a roadmap to reverse estrogen dominance using food, herbs, supplements and natural protocols to rebalance hormones.
To get your copy of Overcoming Estrogen Dominance, go here.
Resources
Roemheld-Hamm, Beatrix. "Chasteberry."

American family physician

. 2005.

Schellenberg, R. "Treatment for the premenstrual syndrome with agnus castus fruit extract: prospective, randomised, placebo controlled study." BMJ (Clinical research ed. 2001.

Rafieian-Kopaei, Mahmoud, and Mino Movahedi. "Systematic Review of Premenstrual, Postmenstrual and Infertility Disorders of Vitex Agnus Castus."

Electronic physician

. Jan. 2017.

Webster, D E et al. "Activation of the mu-opiate receptor by Vitex agnus-castus methanol extracts: implication for its use in PMS."

Journal of ethnopharmacology.

2006.

Webster, Donna E et al. "Opioidergic mechanisms underlying the actions of Vitex agnus-castus L."

Biochemical pharmacology

. 2011.

Ooi, Soo Liang et al. "Vitex Agnus-Castus for the Treatment of Cyclic Mastalgia: A Systematic Review and Meta-Analysis."

Journal of women's health (2002)

. 

Rotem, Carmela, and Boris Kaplan. "Phyto-Female Complex for the relief of hot flushes, night sweats and quality of sleep: randomized, controlled, double-blind pilot study."

Gynecological endocrinology : the official journal of the International Society of Gynecological Endocrinology

. 2007.