Is a good night's sleep a rarity for you? These sleep-promoting kudzu cherry gummies may help.
Chewy, addictive gummies made with completely natural ingredients, these are super easy to make. Plus, the recipe can be doubled or tripled to stock up.
Keep these on hand and eat a couple of gummies per day to aid in restorative sleep.
What is Kudzu?
The kudzu root (also known as kuzu), a plant native to Southeast Asia, has long been used for its medicinal properties. High in complex starch, it is often used to promote digestion and heal ailments like nausea, bloating, and acid reflux.
The kudzu root naturally contains high levels of puerarin, the flavonoid which aids in stabilizing blood sugar, the reduction of high blood pressure, and releases muscle tension. All of these benefits can help lead to better quality of sleep.
Why We Add Tart Cherry Juice
Cherries boast antioxidants and anti-inflammatory properties. In particular, tart cherries are one of the few food sources of melatonin, a hormone that regulates our sleep cycles.
Adding tart cherry juice to this recipe doubles the potency of these sleepytime gummies.
Recipe Tips
I find that using a silicone mold gives me the best results when making gummies as it's flexible and easy to manipulate. However, if you don't have a silicone mold, you can simply pour the gelatin mixture into a slightly-greased glass baking dish. Once firm, slice the jelly into bite-sized squares.
Learn how to add more hormone-balancing ingredients to your meals with our FREE 19 Estrogen Balancing Superfoods Guide here.


Sleepytime Cherry Gummies with Kudzu
Equipment: Large pan, Silicone gummy mold
Author:
Magdalena Wszelaki
Ingredients
2 ½ cups organic tart cherry juice
½ cup unflavored grass-fed gelatin powder
2 tablespoon kudzu powder
¼ cup raw honey
How To Make
Pour tart cherry juice into a large pan.
Gradually mix in the grass-fed gelatin powder and let it hydrate.
Turn on the heat to medium and whisk the mixture as it warms up, until gelatin has dissolved.
Add the kudzu powder and honey until everything is completely dissolved.
Pour mixture into the silicone mold. Chill in the refrigerator for at least 2 hours until firm and solid.
Remove gummies from mold and keep refrigerated in an airtight container.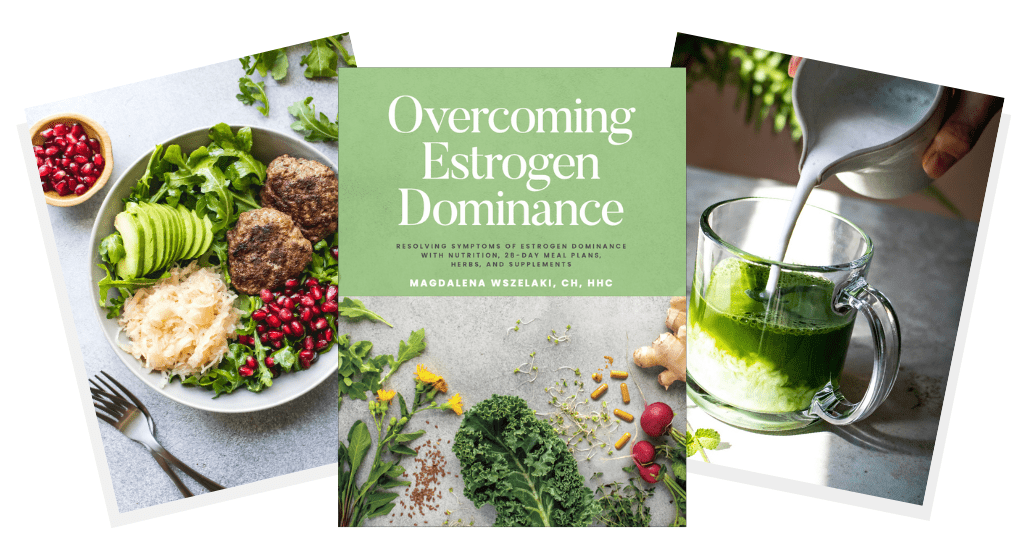 Learn more with Overcoming Estrogen Dominance
"The body has an amazing ability to heal. We just need to give it the right resources."
In Overcoming Estrogen Dominance, my goal is to empower and give you the tools to take control of your hormones and health.
More than 70% of women experience estrogen dominance. The symptoms range from lumpy and fibrocystic breasts to thyroid nodules, hot flashes, fibroids, uterine polyps, painful, heavy or irregular periods to infertility and miscarriages, from mood swings to insomnia, weight gain to fatigue.
So many women have experienced the pain and frustration that comes when they feel their symptoms and complaints are dismissed or minimized. This is particularly true for women who are experiencing the symptoms of hormone imbalance. Even when doctors do offer treatment, it's typically in the form of prescription medication or invasive surgical procedures.
In Overcoming Estrogen Dominance, I hope to show that those extreme interventions are often unnecessary, and to give women a roadmap to reverse estrogen dominance using food, herbs, supplements and natural protocols to rebalance hormones.
To get your copy of Overcoming Estrogen Dominance, go here.
Resources
Wong, Ka H, et al. "Kudzu Root: Traditional Uses and Potential Medicinal Benefits in Diabetes and Cardiovascular Diseases." Journal of Ethnopharmacology, U.S. National Library of Medicine, 12 Apr. 2011.