These chewy soft-baked cookies are chock full of antioxidant-rich ginger, dried cranberries and dark chocolate, for a nutritious treat.
If you're in need of an egg-free cookie that doesn't disappoint when it comes to flavor, then this fool-proof recipe is for you. Old fashioned oats combine with almond flour to create a cookie dough that bakes up chewy, moist and fluffy with a slight crisp around the edges. Notes of vanilla and spicy ginger add a comforting flavor that makes this recipe one you'll keep coming back to. Best of all, there's no fancy equipment needed.
Unsalted grass-fed butter and pure maple syrup bring moisture to the cookie dough without the need for eggs. Maple syrup imparts a rich sweetness without the need to use a lot. You can also use date syrup or raw honey.
Ginger: Antioxidant Powerhouse
Ginger can be found in many varieties from raw to pickled and even candied. Dried ground ginger is perhaps one of the most versatile varieties of ginger because it can be added to baked goods, savory dishes like curry or sipped in tea. It also has a long shelf life making it convenient to use in a pinch.
While it may seem that dried ginger isn't as potent as fresh as far as antioxidants, it is actually the opposite. Dried ginger has an abundance of shogaols, a compound found in ginger with potent anti-inflammatory properties.
Other Benefits of Ginger
Anti-nausea
Anti-carcinogenic- helps fight or prevent cancer
Supports healthy cardiovascular function
May help decrease atherosclerosis and LDL
Tips
Look for dark chocolate that is dairy-free and at least 60% cacao.
Choose a brand of dried cranberries that contains no added sugar. These are available online or in healthy food grocers.
Dough can be refrigerated overnight before baking cookies.
Learn how to add more hormone-balancing ingredients to your meals with our FREE 15 Breakfasts to Rebalance Your Hormones guide here.

Cranberry Chocolate Ginger Cookies
Equipment
Parchment paper
Author:
Magdalena Wszelaki
Ingredients
¼ cup melted ghee
½ cup pure maple syrup
1½ cups blanched almond flour
½ cup old fashioned oats
2 teaspoons ground ginger
½ teaspoon aluminum-free baking powder
¼ teaspoon sea salt
1 teaspoon vanilla extract
⅓ cup dark chocolate chips
⅓ cup dried unsweetened cranberries
How To Make
Preheat oven to 350ºF and line a large baking sheet with parchment paper. In a small mixing bowl, stir together melted ghee, maple syrup and vanilla extract. In a separate medium mixing bowl, stir together dry ingredients. Gradually stir wet ingredients into dry until well moistened. Stir in chocolate chips and cranberries. Refrigerate for 30 minutes to firm dough.
Scoop 2 tablespoon mounds of dough onto baking sheet 2 inches apart. Gently press the tops of cookies with a spoon or clean fingertips to encourage even spreading. Bake for 16-18 minutes, until edges are golden brown. Cool cookies on baking sheet for 10 minutes then transfer to a wire rack to cool completely.
Notes
Storage
Store in an airtight container in a dry spot. Cookies can also be frozen for up to 2 months.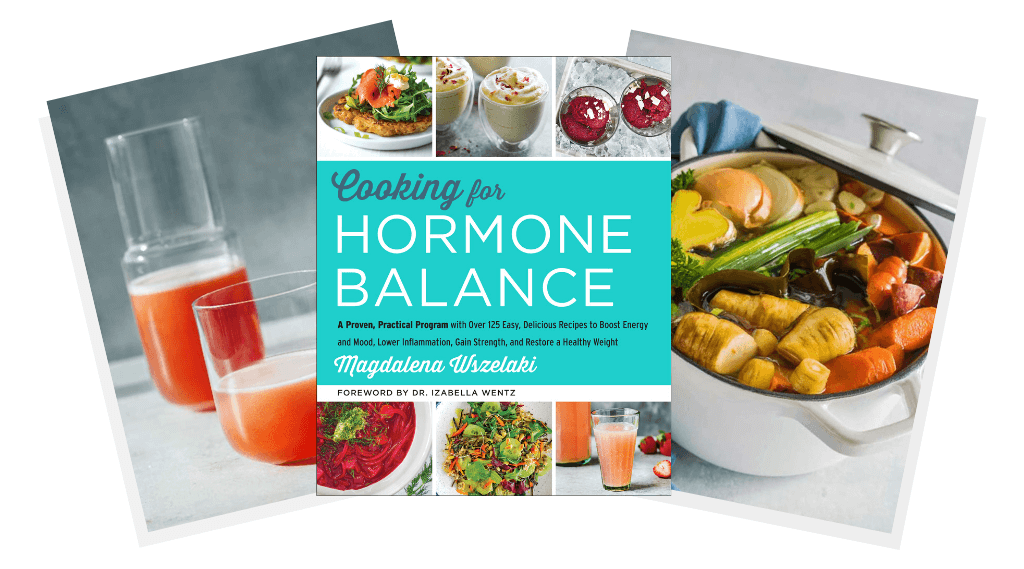 In my cookbook, Cooking For Hormone Balance, you'll find over 125 easy, delicious recipes to nourish your body and balance your hormones without calorie restriction or deprivation.
All of the recipes are based on 20 hormone-supporting superfoods and 20 hormone-supporting super herbs—with modifications for Paleo, Paleo for Autoimmunity (AIP), anti-Candida, and low-FODMAP diets.
You can get a copy of the cookbook here.