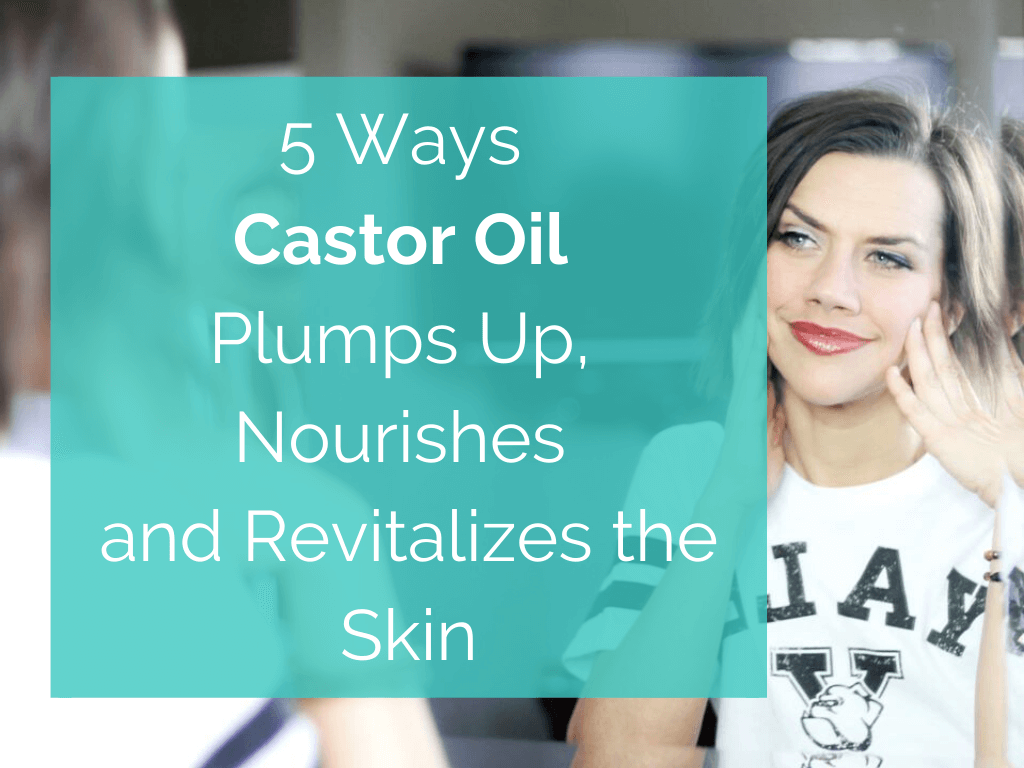 Note from Magdalena: This article was contributed by my dear friend and colleague whom I love and respect – Dr. Marisol Teijeiro aka "Queen of The Thrones." As you will see in our videos, her castor oil packs can be used to help heal your skin from the inside out and below, we will show you easy and simple ways to use them. To read our earlier article about how castor oil can balance your hormones, detox the liver and improve digestive health, click here.
---
Many of us look in the mirror and aren't pleased with what is looking back at us. We are our own biggest critic, picking out every little flaw. We all rush to conceal and cover it up. However, often our skin reflects what is going on in the inside. Instead of covering up redness, acne, or dull skin with loads of makeup, it might benefit you to look into what is going on beneath the surface. Hormones, diet and yes, your beauty regimen can be the culprit behind skin issues. So, if this sounds like you, what can you do?
I want to share with you my easy weekly routine to take care of my skin, using only the most natural of natural ingredients: Castor oil.
Castor oil can be transformative, but you need to know the proper way to use it to your benefit. Learning how to use natural ingredients in the right ways to enhance your appearance and age gracefully can be a game changer for your health and your confidence. Of course, using natural ingredients will take time and when used correctly, can gradually and naturally improve your appearance.
The majority of the products that you are presently using are most likely laden with hidden synthetic chemicals, scents, and perfumes that can cause long-term damage to your body.
Remember: What you put ON your body is as important as what you put into it. Below, you'll learn the true secrets to rejuvenate your skin health from the inside-out.
The Physiological Causes of Aging Skin
Many different issues going on in the inside the body can affect our skin negatively, such as:
Hormonal Imbalances
We all know this. Suddenly, in your 40s, you start to get acne like you have never had before. I can't tell you how many of my patients have experienced this. Our hormones have a big impact on our skin and how we feel. Melasma and rosacea are both skin conditions connected to hormonal imbalances.
Depleted Nutrients and Antioxidant Status
You can't look great unless you have antioxidants that protect your skin. Antioxidants protect us from free radical damage caused by exposure to the sun, chemicals and synthetic substances. We are exposed to these simply by going outside and breathing air. Yikes.
High Acidity and Inflammation
Poor food choices, health conditions, lack of deep restorative sleep, and a plethora of other situations increase your acidity. As a result of increased acidity, there will be increased inflammation in your body.
Stress
Stress shows up in our skin, big time! Think about a time when you were under severe stress, getting little to no restorative sleep, worrying. Break outs, wrinkles and loss of glow and lustre are telltale signs of high stress.
Microbiome Mayhem
When the microbiome is being overtaken by yeasts like candida, parasites, or con-artist bacteria (non-health promoting bacteria A.K.A. conbiotics™), you can see this in redness of your face or dryness of your skin.
Of course, you must always work on cultivating a healthy inner body ecosystem FIRST through nourishing foods, and through DIGESTING those foods well (can't stress this last part enough). But your facial care routine needs to be radically revamped too. Get rid of the old washes and astringents and get restoring deep sleep so that your body can renew. Lastly, you'll need to wash your face with castor oil since it is non-drying, replenishing, redness-reducing and excellent at removing impurities. Let's dive into the details…
4 Ways to Use Castor Oil to Revitalize Your Skin
1. Application: Castor Oil Steam Wash
Most of us wash our faces with harsh solutions and soap and antibacterials, stripping our faces of the natural oils that are meant to clean and reset our hormonally unbalanced skin. When you strip your face of these oils, often your body responds by increasing the production of oil and sebum, complicating the problem.
The solution? Do a nightly oil wash on your face with castor oil, and avoid washing your face in the morning. It's so easy. Simply:
Heat up a face cloth under warm water (hot enough to touch but not to burn).
Place cloth on your face to steam and open up your pores, wiping away any debris that may have accumulated over the day.
In the palm of your hand place a dollop of castor oil (approx. 1 tsp) spread over your clean palms and blot all over your face.
Splash your face with warm water, which helps to pull debris and pushes the oil into your skin.
Using the same steamed cloth, warm it up again, and wipe in an upward motion, all of the excess oil.
2. Application: Gentle Facial Scrub
In this video, Magdalena and I show how to save you money and make your own highly effective mask using castor oil, sea salt and matcha green tea.
3. Application: Lush Eyelash and Brow Hair Regrowth
Many women going into peri- and menopause start noticing the thinning of their eyebrows and eyelashes. This can be compounded when you have thyroid issues. Learn how to apply castor oil for eyebrows and eyelashes regrowth.
4.  Application: Castor Oil Honey Mask
Magdalena says this is her favorite Sunday routine when she sits in her infrared sauna, she makes this simple mask: Castor Oil and honey. She mixes it 1:1 (about 1 tablespoon of castor oil and 1 tablespoon of honey.
In this video, we show how to use castor oil with the toxins-drawing clay – making it into a highly detoxing but also moisturizing and nourishing (and not drying, which clay can be!) mask for all skin types.
That's it. You will notice your skin is as soft as a baby's bottom after doing this. Not to worry if you get it in your eyes, castor oil is super safe and actually healthy for your eyes. You will now be ready for bed and the next day. You'll only need to refresh your skin with purified water in the morning.
From skin applications to overall health, Queen of the Thrones castor oil has a lot to offer – that's why our community absolutely loves them. Ready to give castor oil a try? You can check out their castor oil products here.